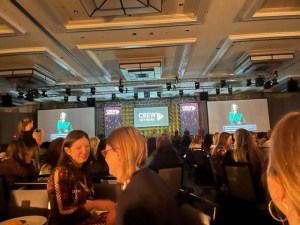 The 2022 CREW Network Convention in Chicago covered major issues concerning the commercial real estate industry. Here are some of the main insights from the first day of sessions.
The Metaverse and VR are our friends. According to Michelle Sipics, director, technology innovation office of special projects, Accenture, because the Metaverse is still emerging, CRE executives can become subject matter experts. Virtual reality can be used for training, digital twinning (so that people can interact safely with real technology in a factory, for example) and for walking through floorplans to make sure the space makes sense.
Don't fear technology. The commercial industry can be slow to adapt to technology. But that's a losing strategy. "The industry has gotten a lot more competitive," Eric Frank, chief executive officer, LightBox, said. "If you're not out front, you're going to lose."
---
READ ALSO: CRE's Top Tech Tools
---
Adaptive reuse's secret weapon? ESG. KC Conway, commercial real estate economist and futurist, Red Shoe Economics, said that an effective way to get adaptive reuse projects to move forward is to make sure it restores green space. "No one wants to say they're anti-ESG," he said.
Rituals make employees happy. If you're team is going back to the office, come up with a routine that is purposeful, intentional and meaningful so they feel like they're an important part of the team. "When people feel like they belong, they're 47 percent more collaborative," author Erica Keswin said. But if you are planning personal or professional development, or even a fun bonding event, just make sure it's during work hours, or it'll be a "recipe for resentment," she said.
COVID didn't change how we work. It just sped things up. "The pandemic drop kicked us 10 years into the future," Marci Rossell, former CNBC Chief economist & co-host of Squawk Box, said. Rossell claimed that we were all heading towards a four-day work week at the office, eventually working in the office even left. We just got there faster now that everyone worked from home during 2020.