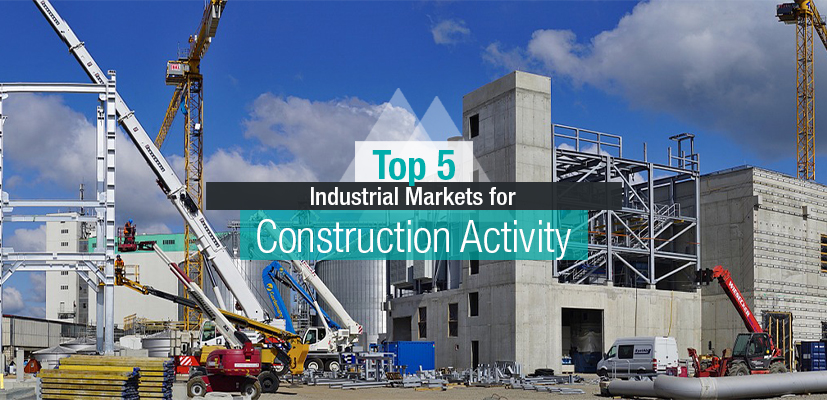 The industrial sector is firing on all cylinders, evidenced not only by a record-shattering transaction volume so far this year, but also a strong development pipeline: In early November, projects under construction nationwide totaled 537 million square feet, or 3.3 percent of stock, according to CommercialEdge data. Rising construction costs have barely slowed activity, even as deliveries year-to-date through October had already exceeded 273 million square feet.
Although the sustained rise of e-commerce and heightened demand for space have impacted virtually every major industrial market's development scene, projects in the five markets with the highest levels of activity account for more than one-quarter of all square footage under construction.
The table below utilizes CommercialEdge to highlight the top five industrial markets across the country, ranked by square footage under construction as of the start of November.
| | | | |
| --- | --- | --- | --- |
| Rank | Market | SF Under Construction | Percent of Stock |
| 1 | Dallas-Fort Worth | 36,234,109 | 4.4% |
| 2 | Phoenix | 30,774,066 | 11.4% |
| 3 | Chicago | 29,582,840 | 3.1% |
| 4 | Indianapolis | 24,494,969 | 8.0% |
| 5 | Inland Empire | 23,307,872 | 4.0% |
5. Inland Empire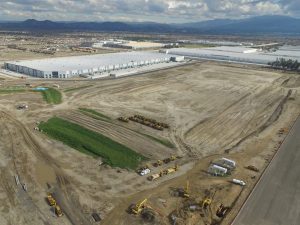 The Inland Empire continued to outperform the nationwide industrial market by every metric. The metro has, alongside skyrocketing investment activity, a robust development scene, with 23.3 million square feet under construction as of early November, or 4.0 percent of the market's stock. Even after deliveries of 9.4 million square feet so far this year, demand is expected to continue to outpace supply.
Clarion Partners and Real Estate Development Associates' 1.2 million-square-foot Building 2 at the Ontario Ranch Logistics Center in Ontario, Calif., was the largest project underway in the market. The development at 4810 S. Hellman Ave. broke ground in the first half of 2020 and is fully leased to Uline Inc. The property will feature 185 dock-high loading doors and 40-foot clear heights.
4. Indianapolis
One of two Midwestern cities on our list, Indianapolis is in fourth place, owing to its nearly 25.5 million square feet underway, which accounts for 8 percent of the market inventory. The metro's central position in the region and its cost advantages—around $4 per square foot at the end of October—have attracted more and more tenants, all the while distribution space has become harder to find. Developers have responded with a flurry of new projects, breaking ground on nearly fifty developments this year alone.
A 2.2 million-square-foot Walmart distribution center at 5300 W. County Road 500 N. in McCordsville, Ind., was the largest project under construction at the start of November. Construction began late last year, with the state's economic development corporation offering the retail giant $6 million in tax incentives to secure the $600 million project.
3. Chicago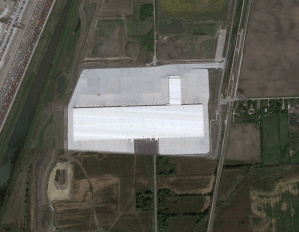 Landing in third place, the country's largest industrial market had 29.6 million square feet of industrial projects under construction in November, or 3.1 percent of the metro's stock. Chicago's position as a major distribution hub, combined with a competitive price point—in October, the market's average rent of $5.36 per square foot was more than 15 percent less than the national figure—has led to an influx of tenants seeking large-scale, modern distribution space.
In early 2020, Harbor Freight Tools broke ground on a 1.6 million-square-foot facility at 3401 Brandon Road in Joliet, Ill., the largest project under construction in the market as of November. The tool supplier will occupy the property upon completion in early 2022.
2. Phoenix
The Phoenix industrial market has long been a target for both developers and investors, owing to rapid population growth, company relocations and low relative costs, particularly compared to Los Angeles. The market's 30.8 million square feet of industrial projects underway in early November account for a whopping 11.4 percent of inventory, highlighting just how fast the metro is expanding—even beyond the 10.3 million square feet of deliveries so far this year.
The metro's largest industrial project—by far—is the first, 3.8 million-square-foot phase of Taiwan Semiconductor Manufacturing Co.'s plant 25 miles north of downtown. Work on the development began in May, but the advanced chip manufacturing facility is not expected to become operational before early 2024. The estimated cost of the center is $35 billion.
1. Dallas-Fort Worth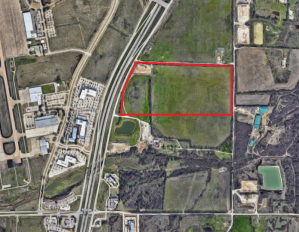 At the top of our list, the Dallas-Fort Worth metro had the highest level of industrial development nationwide, with 36.2 million square feet under construction in November, or 4.4 percent of inventory. Boasting low taxes, immense population growth and myriad corporate relocations, it's no surprise that tenant demand within Dallas continues to rise. Despite deliveries this year of nearly 20 million square feet, vacancy kept to a low 4.9 percent—one full point lower than the national figure.
The largest project underway was Hillwood's 1.2 million-square foot first building within Alliance Center East in Keller, Texas. Construction on the speculative development kicked off this fall, with completion slated for the end of next year. Plans call for 40-foot clear heights, 190-foot truck courts and 271 stalls for trailer parking.