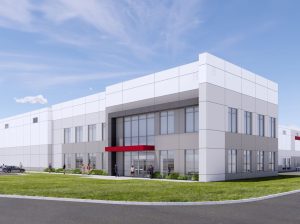 Hines, in partnership with Cresset Real Estate Partners, has broken ground on a 1.1 million-square-foot building along Interstate 65 in Whiteland, Ind.
The Whiteland 65 Logistics Center is Hines' first logistics project in the Indianapolis metro area. Cushman & Wakefield will handle leasing and marketing of the property. The property is available for preleasing and is slated for a 2022 completion.
The Whiteland 65 Logistics Center development benefits from a 10-year real estate tax abatement program, according to marketing materials published by Cushman & Wakefield. According to the Daily Journal, the tax abatement amounts to $3 million, and Hines is expected to invest $28.8 million in the project.
---
READ ALSO: Exeter Property Group Buys Industrial Site Near Indianapolis
---
Whiteland 65 Logistics Center will be situated just off Interstate 65, near the intersection with Whiteland Road. Johnson County is home to several other large projects. In a prepared statement, Hines Director Joe Noon said that the project will serve the area's growing demand for large-format bulk distribution and warehouse space.
The upcoming logistics center will sit on an 81-acre site and is set to feature a 40-foot clear height, a cross-dock configuration with approximately 108 doors, four drive-in doors, ESFR sprinklers and two 1,500-amp service panels. Additionally, the project will benefit from 291 trailer parking spaces (expandable to 581), over 690 auto parking spaces and a 135-foot truck court. The property can be potentially leased to one or two tenants, as the minimum divisible space is 565,320 square feet.
The project's location facilitates access to several major thoroughfares. Whiteland Logistics Center will have frontage along Interstate 65 and is less than 30 miles from Indianapolis International Airport, while Interstate 70 provides access to Eastern destinations. Nearby corporate neighbors include Cooper Tire & Rubber Co., Amazon, Pilot Flying J and Amcor.
Growing market
Earlier this year, the REIT entered Indiana by acquiring a 1 million-square-foot property in Jeffersonville, Ind., a property that is fully leased to Amazon.
The Indianapolis industrial market had a strong first quarter this year, with 5.3 million square feet leased, translating to 1.2 million square feet of direct absorption, according to Cushman & Wakefield research. This represents the second-highest first quarter absorption since 2015, the same report shows. Developers expect demand to continue growing.
According to CommercialEdge data, the Indianapolis market has more than 11.6 million square feet of industrial space under development. Virtually all construction activity is concentrated in submarkets like Johnson (which has 2.5 million square feet underway), as well as Hancock and Hendricks counties, where space is widely available. Of the total 22 properties, there are three other one-building projects of more than 1 million square feet each, including a Walmart Distribution Center that will comprise 2.2 million square feet.