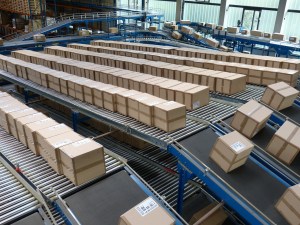 Hines Global Income Trust has acquired an e-commerce fulfillment center in Jeffersonville, Ind., that's fully leased to Amazon. The REIT acquired the nearly 1 million-square-foot property from KTR Indy II LLC, according to Commercial Edge data.
---
READ ALSO: W. P. Carey Enhances Portfolio With $170M in Buys
---
Located at 900 Patrol Road, the fulfillment center is approximately 12 miles north of downtown Louisville, Ky., which has access to UPS Worldport, three interstate highways and two class-one railroads. Omar Thowfeek, Hines Global's managing director of investments, said in prepared remarks that the property's location near Louisville gives it access to major highways and a deep labor pool from the area.
Will Renner, managing director at Hines, also said in prepared remarks that the property can reach large U.S. population centers and benefits from the Louisville metro's scarcity of developable land.
Industrial-heavy portfolio
The acquisition of the fulfillment center represents the seventh investment in the logistics sector in the past year for Hines Global. Renner added in his prepared statement that Louisville will be a key market for the REIT's continued industrial activity across the Midwest, as the city has the ability to reach roughly 100 million people within a nine-hour drive. 
The REIT's portfolio also includes a 417,000-square-foot industrial and manufacturing campus in Santa Clara, Calif., that was purchased for $107.1 million in September 2020. Thowfeek also said in prepared remarks that the REIT remains bullish on the industrial sector.
Hines Global's portfolio currently totals 15 industrial assets located in the U.S., the U.K., the Netherlands, Poland, Germany and Spain. The industrial assets make up more than half of the portfolio's overall value of $2 billion, with more than a quarter of the portfolio being residential and the remainder split between retail and office properties. According to Hines Global, the portfolio was 93 percent leased as of March 31.