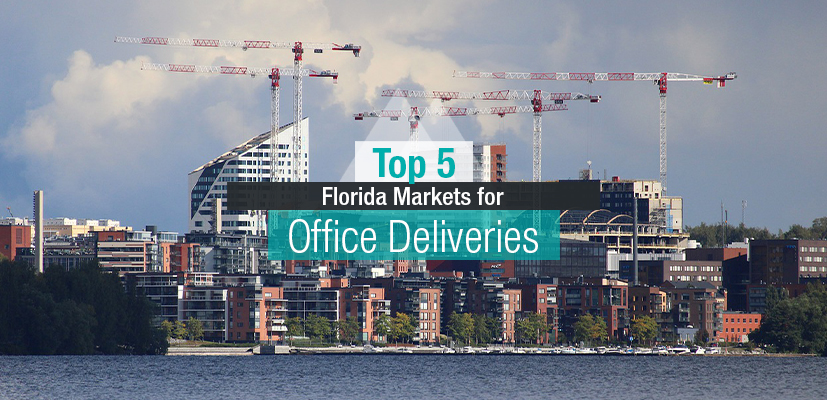 Despite nationwide economic challenges to the office sector, Florida's markets have continued to perform relatively well. Office deliveries in the first eight months of this year totaled 2.1 million square feet statewide, according to CommercialEdge. While this does represent a 14 percent drop from the same period last year, an additional 360,000 square feet is estimated to deliver by year-end.
Office developers are likely to continue building out modern space at a rapid pace as companies eye Florida. During the pandemic, a number of major corporations—among them Blackstone and Goldman Sachs—announced plans to shift some operations to the Sunshine State.
CommercialEdge identified the top five Floridian markets for office deliveries between January and August this year in the table below. These metros account for 92 percent of the square footage delivered during this period.
| | | | |
| --- | --- | --- | --- |
| Rank | Market | Sq Ft Delivered | No. of Properties |
| 1 | Tampa – St. Petersburg – Clearwater | 769,883 | 6 |
| 2 | Jacksonville | 312,000 | 2 |
| 3 | Miami | 305,144 | 3 |
| 4 | Southwest Florida Coast | 286,920 | 5 |
| 5 | West Palm Beach – Boca Raton | 270,845 | 1 |
5. West Palm Beach – Boca Raton
A single, 270,845-square-foot building came online in the metro year-to-date through August. The volume represents a 27 percent decrease from the same period last year, when developers added 343,942 square feet across four properties.
Related Cos.' 360 Rosemary, a 20-story office building in downtown West Palm Beach, wrapped up construction in June. The development, financed with a $142 million construction loan from MSD Capital, was designed by Elkus Manfredi Architects and Leo Daly. The property has already attracted a diverse tenant roster, including coworking operator Spaces, artificial intelligence firm Levatas and NewDay USA.
4. Southwest Florida Coast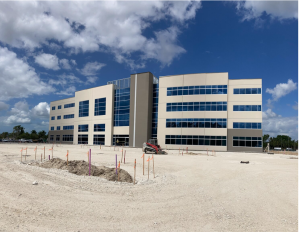 Five properties encompassing 286,920 square feet came online in Southwest Florida Coast through August, accounting for 1.2 percent of inventory, the highest proportion among our list of metros. Even so, office deliveries declined by 16 percent from the same time last year, when two projects totaling 334,066 square feet were completed.
The bulk of new square footage was added in outlying Collier County, where two properties—including the market's largest office delivery—encompassing 143,337 square feet delivered. The largest was Catalyst Healthcare Real Estate's 6376 Pine Ridge Road in Naples, a city which has experienced one of the largest increases in office asking rates among secondary and tertiary markets. The 108,337-square-foot building was designed by Davis Stokes Collaborative and is occupied by Physicians Regional Healthcare System.
3. Miami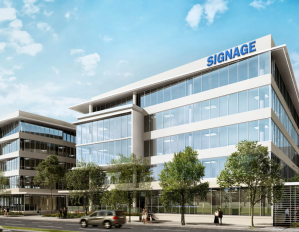 Office completions in Miami at the end of August totaled 305,144 square feet, nearly on par with the 308,070 square feet delivered in the first eight months of 2020. The metro has maintained a steady pace in terms of office deliveries, meeting increased demand from the tech and finance sectors.
A total of three properties came online in the metro, with two near Miami International Airport. Century Homebuilders Group and Pactia USA's 850 Le Jeune includes two office towers totaling 213,225 square feet, a 230-unit residential building and a parking garage with a ratio of 4 spaces per 1,000 square feet. The joint venture broke ground on the mixed-use asset in 2019, with First Horizon Bank providing construction financing.
2. Jacksonville
Jacksonville continues to perform extremely well in most real estate sectors—and office is no exception. Some 312,000 square feet of office space came online in the metro this year through August. Completions more than doubled compared to same time last year, when two properties totaling 133,480 square feet of office space delivered.
The largest office delivery consisted of 5420 Palm Valley Road in Ponte Vedra Beach. The 187,000-square-foot asset reached completion in February, developed by a joint venture between VanTrust Real Estate and the PGA Tour. The latter occupies the building, which serves as the company's global headquarters and houses more than 750 employees.
1. Tampa–St. Petersburg–Clearwater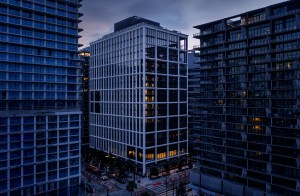 The Tampa-St. Petersburg–Clearwater metro ranked fifth on Urban Land Institute and PricewaterhouseCoopers' annual ranking of top real estate markets to watch for overall prospects. The office sector stood out in terms of deliveries, with developers completing six projects totaling nearly 770,000 square feet of office space through August. This represents twice the amount delivered during the same period in 2020.
The largest delivery in the metro was also the first trophy office building downtown Tampa has added in the past three decades. Strategic Property Partners completed the 387,000-square-foot tower, known as Thousand & One, in July. The 20-story property is located within the $3.5 billion, 56-acre Water Street Tampa mixed-use district.