ULI, PwC Name Real Estate's Top Cities
Emerging Trends sizes up the markets to watch and the trends that will be shaping the industry.
Sunbelt cities dominated the Urban Land Institute and PricewaterhouseCoopers' annual ranking of top real estate markets to watch. The 2022 Emerging Trends in Real Estate report named Nashville, Tenn., as the top city for real estate.
Notably, just one gateway city, Boston, landed in the top 10.
During a session at the 2021 ULI Fall Meeting in Chicago where the report was first unveiled, PwC's Director of Real Estate Research Andrew Warren said there weren't a lot of surprises among the top 10 markets, adding that "people have been talking about Nashville for years."
The top 10 U.S. markets to watch for overall real estate prospects from ULI/PwC:
Nashville, Tenn.
Raleigh/Durham, N.C.
Phoenix
Austin, Texas
Tampa Bay/St. Petersburg, Fla.
Charlotte, N.C.
Dallas/Fort Worth
Atlanta
Seattle
Boston
Researchers from ULI and PwC interviewed more than 900 individuals and received responses from around 1,200 individuals for the annual report.
The 111-page study detailed a number of trends and developments that have been shaping the U.S. real estate market over the past year, including the rise in flexible work, a bigger focus on climate-related real estate risk, the growth of proptech and the popularity of alternative sectors for investment.
---
READ ALSO: Conditions Ripe for Lending Boom. Will Discipline Hold?
---
The sentiment survey outlook for 2022 garnered a more positive response from respondents than 2019, the high of the cycle. Though Warren attributed that to respondents worrying there would soon be a downturn, while in the midst of the longest economic expansion in history.
Other highlights
Many of the trends discussed in the report are not new, but some are being seen in a different light due to the COVID-19 pandemic, like the housing crisis redux, retrofitting cityscapes and climate risks.
Panelists at the general session on Wednesday talked about the high amount of capital currently flowing into real estate. "Everybody wants in," said Warren. "Now the question is, is there too much money? Are we going to be able to place it?"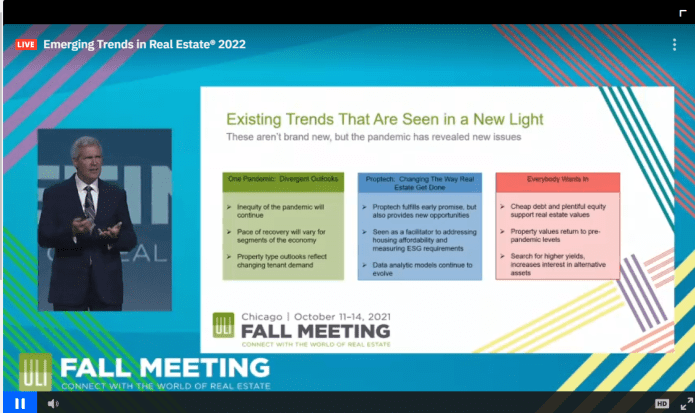 Alternative property types are drawing a huge amount of interest at the moment, including life sciences, data centers, single-family rentals and workforce apartments. Marcus & Millichap President & CEO Hessam Nadji said during the session that he expected the office sector, which has struggled with high vacancy in several markets, to perform better than expected in 2022. "Office is the diamond in the rough," said Nadji.
More than 80 percent of survey respondents said they consider ESG when making decisions about their businesses, from an operational or investment standpoint. With many cities, like New York, now requiring property owners to reduce their carbon emissions, the case for reducing emissions and energy efficiency is stronger than ever.
"Cities are demanding that buildings are different," said Bradford Dockser, the CEO & co-founder of Green Generation, during the panel. "Lower emissions, lower carbon, lower energy and water use—it's clear that the real estate that people are going to demand going forward is not what exists today."
Read the full report by ULI and PwC.