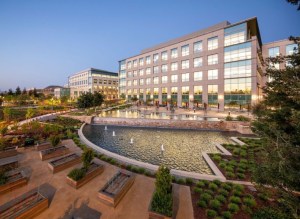 Seven months after leasing a Sunnyvale, Calif., office campus to Meta and 14 months after buying the 719,037-square-foot property for $356 million, Tishman Speyer has sold the complex to CommonWealth Partners for $707 million in Silicon Valley's largest investment sale.
Bloomberg was the first to report the sale price for the property that has four low-rise buildings at 1275, 1345, 1375 and 1395 Crossman Ave. in the desirable Moffett Park neighborhood.
While not disclosing the amount CommonWealth Partners paid for the campus, Tishman Speyer CEO Rob Speyer said in a prepared statement Sunnyvale is a great success story. He said the sale and lease to Meta, parent company of Facebook, in December 2021 demonstrates that Silicon Valley remains a global center of innovation and that there is still a strong market for highly collaborative, well-designed office space with accessible green space and top-level amenities.
---
READ ALSO: Making the Post-Pandemic Office Even Better than Home
---
The campus' amenities include a gym with basketball court, lockers, showers, outdoor volleyball court, executive briefing center, full-service cafeteria, multiple kitchens, break centers and other common areas.
Tishman Speyer acquired the property in April 2021 from NetApp, a Fortune 500 cloud services company that was moving to a smaller location in San Jose, Calif., more appropriate for a hybrid work force. Carl Shannon, Tishman Speyer senior managing director, noted in prepared remarks that the company seized on a rare opportunity to purchase and reposition the office campus during a period of significant uncertainty. He said they were able to reward their co-investors faith with "an outstanding return in just over a year's time."
The transaction is the largest investment sale in Silicon Valley history, according to Newmark. Tishman Speyer was represented by Kevin Shannon, Steven Golubchik, Phil Mahoney, Jonathan Schaefler and Darren Hollak of Newmark in the sale.
Record-setting firm
CommonWealth Partners, a national real estate investment, development and management firm with headquarters in Los Angles and New York, is no stranger to setting records for its purchases. Late last year, CommonWealth Partners acquired Hudson Commons, a 25-story trophy office tower at 441 Ninth Ave. in Manhattan from Cove Property Group and The Baupost Group for $1.033 billion. It was the largest office deal in Manhattan since the beginning of the COVID-19 pandemic and the only one to surpass $1 billion.
The acquisition of the Sunnyvale complex brings CommonWealth Partners' holdings in the Moffett Park/Sunnyvale market to more than 1.25 million square feet of LEED Gold/Platinum trophy office space. Established in California in 1995, the firm has a long and successful history in the market.
One example is its recently executed lease renewal of international law firm Wilson Sonsini Goodrich & Rosati at 650 Page Mill Road in Palo Alto, Calif. The firm has more than $10 billion of assets located throughout the U.S., including New York, Washington, D.C., Seattle, San Francisco, Silicon Valley, San Diego, Los Angeles and Boston. In May 2020, CommonWealth Partners and California Public Employees Retirement System (CalPERS) refinanced City National Plaza, a LEED Platinum, 2.5 million-square-foot downtown Los Angeles mixed-use and office complex, for $550 million in one of the first CMBS loans to be originated during the height of the pandemic.
Brett Munger, CEO & managing partner of CommonWealth Partners, said in prepared remarks the purchase of the Sunnyvale campus was a compelling investment that increases the firm's presence in a strategic, high-growth submarket of Silicon Valley. He said the acquisition in a dynamic market that has become a hotbed for expansion by high credit tech companies like Google, Amazon and Meta diversifies the company's portfolio and reinforces its commitment to being a leading provider of high-quality office space in the region.
Market reports
In its San Jose-Silicon Valley market report for the first quarter of 2022, Avison Young noted confidence in the future of the office market in the region remains high. JLL also reported that an uptick in leasing activity in Silicon Valley was anticipated as more companies began to reopen.
"Tenant requirements have risen to a record 3.7 million square feet, supplementing demand. Furthermore, prelease commitments are set to deliver over the next three quarters which are poised to increase office occupancy by 3.4 million square feet," JLL stated in its Office Insight report for Q1 2022.
Kidder Mathews noted in its Silicon Valley office market trends report for the first quarter of 2022 companies were more open to pursuing long-term leases and renewals as the indoor mask mandates were lifted in March.
"Major tech companies are planning strategies to better utilize their office spaces, ranging from hybrid work schedules to a full pre-COVID five-day workweek," Kidder Mathews wrote.
Kidder Mathews stated the large concentration of technology and biotech firms in the region fuel demand for more office space and also noted that landlords have been hesitant to lower asking rates "especially with the market feeling ever closer to a full recovery." In fact, the firm reported asking lease rates rose 2.1 percent year-over-year. Total net absorption was 813,035 square feet and had remained positive for three straight quarters.
The unemployment rate in Santa Clara County was 2.9 percent in February and 5.4 percent statewide.