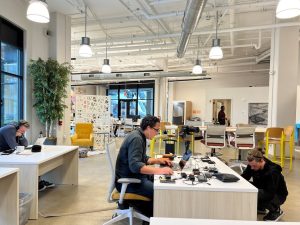 THRIVE | Coworking has acquired Cova, a company operating a 7,000-square-foot flexible office in Columbus, Ohio. The space, THRIVE's first location in the state, is part of the 840,000-square-foot mixed-use Gravity Project, owned and developed by Kaufman Development, according to CommercialEdge data. The office has been rebranded as THRIVE | Franklinton.
The newly built coworking space offers various memberships, including open desks, dedicated desks, private offices and enterprise plans, available for larger teams, as well as virtual offices and email plans. Amenities at the property include meeting rooms, event spaces, free coffee and tea, a wellness room, lots of greenery and rotating exhibitions of local artists.
Located at 470 W. Broad St., the property is less than a mile from downtown Columbus and within 3 miles of The Ohio State University, with entertainment and employment hubs nearby. Several dining places and retail options are within walking distance of the coworking space, while Interstate 71 is 1 mile southeast.
Coworking is on the rise again
In addition to the newly opened flex space, THRIVE | Coworking currently owns several office spaces across Georgia, planning to add 10 more locations across Alabama, Georgia, North Carolina and South Carolina at the end of this year and in the first part of 2023. The first locations are expected in Gainesville, Ga., and Charleston, S.C.
With the flex office market on the rise, several major coworking deals closed this year. In March, WeWork acquired Common Desk, adding 23 locations to its Texas and North Carolina portfolio. Just last week, Industrious announced the opening of another 41,245-square-foot coworking space in Washington, D.C., as part of the company's expansion strategy.