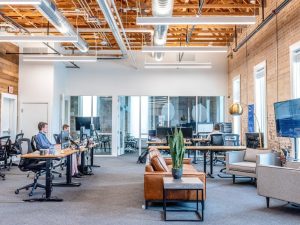 Industrious has unveiled plans for Industrious Capital Riverfront, a new 41,245-square-foot coworking and flex office location in Washington, D.C., Bisnow reported. The company will lease the space at Illume, a luxury residential community owned by Oxford Property Group and J.P. Morgan Global Alternatives, and developed by Greystar.
Slated to open in October this year, the dog-friendly coworking space will provide 530 seats and 141 offices, as well as access to a wellness room, private conference rooms, office supplies, community events, as well as daily breakfast and craft coffee. The property will offer dedicated workspaces for teams larger than 20 members, private offices for smaller teams and a common space for individual or hybrid workers.
Located at 853 New Jersey Ave. S.E., the property is next to Interstate 695 and within a mile of Interstate 395. The office space is also within walking distance of numerous dining and retail options, such as Whole Foods Market, as well as several green spaces, including Garfield Park and Randall Recreation Center.
Washington, D.C., coworking footprint expands
Mirroring the coworking and flex office trends, Industrious is currently expanding its portfolio in the area. Two other coworking spaces are expected to open this winter in Bethesda, Md., and Washington D.C. Last year, Industrious posted a 31 percent annual revenue increase, according to a recent CBRE analysis.
The Bethesda space will offer 24,503 square feet of office space and is part of the company's partnership with Carr Properties from April, which includes three coworking spaces, totaling 89,000 square feet throughout the metro area.
The company also plans to open three other coworking spaces in the winter of 2023. Industrious The Hub will offer 533 seats and more than 134 private offices at 1615 L St. N.W., while Industrious Union Square will add 329 seats and 80 private offices to the company's portfolio. The third coworking space will be located at 601 13th St. N.W.