In contrast to the office market, which is facing an unclear future in the aftermath of the recent downturn, the industrial sector's growth seems to be unstoppable. Demand has only risen in the past 18 months and developers have quickly followed suit.
Among major U.S. markets, Dallas-Fort Worth has the largest construction pipeline, with more than 28.4 million square feet under construction as of May, CommercialEdge data shows. Phoenix, on the other hand, is growing the fastest. The first quarter was the metro's best on record, with 5.6 million square feet of positive absorption. Nationally, there were more than 410 million square feet of industrial space under construction at the end of May.
---
READ ALSO: TA Realty to Build $1.8B DC-Area Data Center Campus
---
And the future does seem bright, though a few threats are rising on the horizon. Labor shortages, spiraling construction costs and restructured supply chains will play a key role going forward, as will the shifting balance toward just-in-case delivery.
With an industrial footprint of more than 37 million square feet across 35 markets, TA Realty is one of the largest players in the U.S. industrial real estate space. Managing Partner James Raisides has been with TA since 1996 and has more than 30 years of experience in the sector, so Commercial Property Executive asked him to review the market's latest developments and talk about its unwavering potential.
What was a unique lesson learned during the pandemic?
Raisides: The major post-pandemic lesson in the industrial sector must be on the occupier side. While e-commerce has been the driving force in the industrial sector for more than a decade, accelerated adoption during the pandemic, while significant, was a continuation of that trend. However, after decades of perfecting a just-in-time supply chain, tenants learned what can happen when global forces disrupt that chain, and they cannot get their products to consumers. Tenants are already reassessing how much product they will need to store—and potentially produce—stateside. We think that will be one major change to come out of the pandemic.
Research suggests that construction needs to speed up to meet demand, but construction costs are going up nationally. What consequences do you think this will have?
Raisides: As we approached the pandemic at the end of 2019 and early 2020, supply was starting to outpace net absorption nationally. Post-COVID-19, demand has flipped that dynamic back again. We think a rise in replacement costs will have a twofold effect.
First, in markets where supply and demand are in check, we think rising costs will help slow construction, keeping those markets in equilibrium. For those markets where there are continued significant demand drivers, we think developers will continue to build. Increased costs of construction will lead these landlords to require a higher rent—and the demand is significant enough that tenants will pay it. When new construction rents rise, that will lead to rental rate increases across all segments of the industrial market.
What type of buildings are in most demand in 2021? What are your investors looking for?
Raisides: Historically, TA Realty has built portfolios in the core, core plus and value-add spaces. Today, our investors are looking to us to continue to monitor national markets for the best opportunities in the industrial sector while maintaining a diversified subsector approach. This includes high throughput distribution and warehouse properties in primary industrial markets—driven by structural components such as ports and intermodal facilities—as well as multi-use logistics assets servicing populations in high growth submarkets across the U.S. Aggregated together in a portfolio, these assets offer both the benefits of stable credit cash flow and the ability to participate in the tremendous market rent growth we are seeing nationally.
Some would argue that an increased effort to spur domestic manufacturing and reorganize the supply chains is underway. Do you agree?
Raisides: We agree that there is a reassessment of the supply chain happening. Initially, we think this will largely mean that additional product that has been manufactured overseas will need to be stored in warehouses in the U.S. The onshoring of manufacturing itself is a long-term trend worth monitoring. Considering the decade's worth of investment that have been made in existing supply chains, we do not think this is a change that will happen overnight—particularly with post-pandemic labor shortages currently causing concern in the U.S.
How have physical requirements for the industrial sector changed in the aftermath of the pandemic?
Raisides: We believe that the onshoring trend is going to lead to a requirement for additional efficient storage due to tenants' needs to warehouse more product stateside. High throughput buildings with increased clear heights for additional racking, as well as efficient column spacing and extra dock-high loading will be critical to meeting tenants' needs.
What new industrial markets, if any, is TA Realty planning to expand to?
Raisides: TA monitors approximately 35 markets nationally, and the pandemic itself will not cause us to reassess this. We will continue to focus on markets that have the demos to support last-mile delivery spurred by e-commerce—with an eye out for markets that may be undersupplied relative to population. We will also continue to focus on gateway locations with sufficient modern inventory to provide efficient storage for additional inventories that we think tenants will be looking to onshore.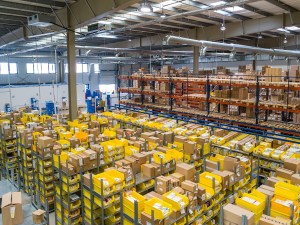 One such market is Dallas-Fort Worth, which is projected to continue its strong performance. Is this growth sustainable?
Raisides: We have always liked the Dallas market and with the continued population growth into Texas, we expect the Metroplex to continue to outperform relative to other areas of the country for several reasons.
The DFW industrial market showed strong resilience in 2020, despite the disruption everyone experienced due to COVID-19, finishing the year with a healthy overall market vacancy below 7 percent. That momentum carried over into 2021, with total absorption exceeding 10 million square feet in the first quarter. The heavy local demand for warehouse space has been primarily anchored by consumer goods, e-commerce, and third-party logistics companies shifting toward a supply chain strategy of storing more product closer to customers for faster delivery.
DFW is presently the fourth-largest metro area by population in the U.S. and is leading the nation in welcoming new residents—over 120,000 new residents moved to the Metroplex in 2020 and it's projected that the total population will grow by almost 18 percent by 2029. Considering its centralized location regionally within the U.S., its swelling local population and the inherent business-friendly governance of Texas, DFW is a very well-situated industrial market. Overall, we anticipate continued growth in DFW for the foreseeable future.
Tell us about a recent Dallas deal that would characterize the state of the industrial sector.
Raisides: Leasing is on fire across the nation, especially in gateway industrial markets like Dallas, as just mentioned. We are seeing vacancies lease up well in advance of pro forma, and speculative new construction is being delivered preleased. But this is also driving tenants to renew in place as we have recently seen in one of our assets in the Metroplex. This single tenant 600,000-square-foot building had a lease expiration in the third quarter of 2021. The tenant had messaged us in 2020 that the space might be a bit too large for them and asked us to demise for their use in the 400,000- to 500,000-square-foot range. Based upon what was happening in the market, we declined. The tenant hired a broker to help them find a new building, but struggled to find a location in the submarket to accommodate them.
Meanwhile, we were getting strong inquiries from tenants when we listed the space as coming available. Within one day of our first prospective new tenant touring the space, the existing tenant called and requested to renew in place at the existing square footage. This deal represented a full market rate on the lease, and cost us zero dollars in tenant improvements and saved any capital expenditure that would have been associated with demising the space.
In the end, it's a strong landlords' market and the tenant recognized that being shut out of the market was a much bigger problem for their bottom line than perhaps paying on a little more square footage than they thought they needed at the time.