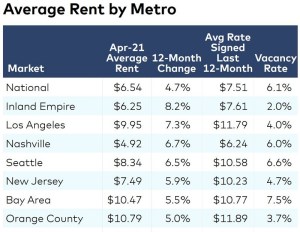 E-commerce continues to push the industrial real estate sector to ever-greater heights, CommercialEdge's May industrial report shows, with Amazon driving a significant portion of nationwide investment and development activity. Since the beginning of last year, approximately 7 percent of all transactions have involved properties leased by the company. Similarly, in terms of industrial construction, a staggering number of large projects—some nearing 4 million square feet—have broken ground as the e-commerce giant continues to expand.
Nationwide rents averaged $6.54 per square foot, a 4.7 percent gain over the year through April, with the largest increases observed in coastal markets with limited land availability for new industrial construction. The Inland Empire boasted the highest growth among major markets, up 8.2 percent to $6.25 per square foot. Los Angeles and Seattle also topped the list, with gains of 7.3 percent and 6.5 percent.
Industrial markets in the Midwest made notably smaller gains: Although rents in the Twin Cities increased at a similar pace to the national average, rates contracted in Detroit and St. Louis. Even Chicago saw smaller gains of 3.3 percent. That said, new leases in Chicago in the past 12 months commanded a $1.60-per-square-foot premium over the market average, the largest spread among non-coastal markets.
Southern California's markets have consistently had some of the tightest vacancies nationwide, and this held true in April: The three markets with the lowest vacancy rates were the Inland Empire (2.0 percent), Orange County (3.7 percent) and Los Angeles (4.0 percent), compared to the national rate of 6.1 percent.
CommercialEdge data shows 388.7 million square feet of industrial projects underway at the end of April across the country. While new developments could help put a dent in low vacancies, the pipeline is largely concentrated inland: Only 30 percent of the square footage underway was in coastal markets. However, with many tenants shifting toward lower-cost markets with greater land availability—such as Phoenix and Nashville—this will likely ease vacancy compression in the longer term.
Read the full CommercialEdge report.