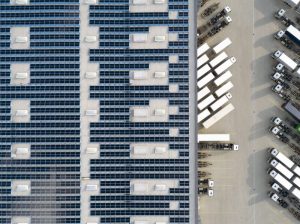 Stream Realty Partners has entered into an agreement with Catalyze, which develops, builds, owns and operates solar, battery storage and electric vehicle charging systems, to jointly develop on-site renewable energy products on all of Stream's owned industrial properties nationwide.
Stream and Catalyze will install solar, battery storage, and EV charging stations across Stream's development pipeline of more than 40 million square feet, or the equivalent of more than 450 MW of on-site solar and battery storage projects.
---
READ ALSO: What the New Energy Crisis Could Mean for CRE
---
Initially, the two companies are considering 42 properties across the United States, in markets including California, North Carolina, South Carolina, Tennessee, and Texas, and intend to build EV chargers at many of the properties over the next few years.
"Our partnership with Catalyze makes it effective and profitable to streamline deployment of clean energy solutions across our growing pipeline of industrial facilities, while supporting the power grid throughout our industrial portfolio," Adam Jackson, Stream's chief investment officer and chair of its ESG committee, said in a prepared statement.
Asked how Stream foresees quantifying the benefits from this agreement with Catalyze, Stream Senior VP Carlton Johnson said "as logistics companies continue to become more sophisticated and discerning in all aspects of the operations of their business, we believe participating in the production and consumption of reliable clean energy is an attractive proposition that will resonate with prospective tenants."
Jackson highlighted the potential scope of the agreement by pointing out that Stream has about 7.2 million square feet of speculative industrial projects in various stages of development and about 9 million square feet of pipeline opportunities across the Southwest, South and Southeast.
At the end of 2020, JLL Income Property Trust acquired a brand-new, 350,000-square-foot distribution center in Fort Worth's Northwest Commerce Park, a 66-acre campus developed by Stream Realty.