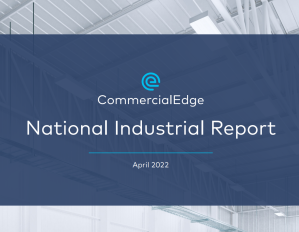 Industrial demand continues to be on the upswing, with Southern California leading the way in this aspect, according to the latest CommercialEdge industrial report. As of March, rents were highest in markets like Orange County ($11.80 per square foot), Bay Area ($10.99) and Los Angeles ($10.45), driven by companies chasing space in the region. Meanwhile, growth of in-place rents soared in Los Angeles and the Inland Empire in March (6.8 percent over the last 12 months), and Orange County (5.2 percent).
Despite the hot demand in the region, development activity is tempered in Los Angeles, where only 3.4 million square feet was underway as of March (0.5 percent of stock), as well as in Orange County (2.3 million square feet underway, 1.2 percent of stock). Tight industrial availability might lead to a spillover effect in nearby markets like Phoenix, Las Vegas and the Central Valley.
---
READ ALSO: Why Industrial Space Demand Exceeds Expectations
---
National in-place rents averaged $6.47 per square foot in March, a two-cent increase from the prior month and up 440 basis points year-over-year. While growth of in-place rents soared in Southern California, markets in the Northeast, including Boston (5.4 percent), Philadelphia (5.1 percent) and New Jersey (4.9 percent) posted above-national rates of growth.
Industrial vacancy nationwide stood at 5.0 percent in March, a 20-basis-point decrease from the previous month. Southern California and port markets continued to post the tightest vacancies, with the Inland Empire (0.7 percent), Los Angeles (2.1 percent) and Central Valley (2.7 percent) ranking at the top of the list.
The active pipeline included 621.7 million square feet of industrial space under construction as of March—accounting for 3.6 percent of total stock­. Another 653.2 million square feet was in the planning stages, pushing the rate to 7.4 percent of existing stock. More than 60 million square feet of industrial space was delivered across the nation in the first quarter and while construction activity is tempered in port markets due to land scarcity, land-locked markets, including Dallas-Fort Worth and Indianapolis, are leading the way in terms of completions.
Read the full CommercialEdge report.