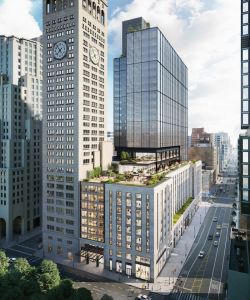 In deals totaling north of $400 million, SL Green Realty Corp. has sold interests in three Manhattan office properties. The transactions include the sale of a 25 percent interest in the REIT's signature One Madison Avenue project; its ownership interest in the office and garage condominiums at 110 E. 42nd St.; and its leasehold interest in the multifamily building at 1080 Amsterdam Ave.
The 25 percent stake in One Madison Avenue was sold to an international investor, which has committed equity to the project aggregating at least $259.3 million. SL Green retains a 25.5 percent interest in the property, and its joint venture partners, the National Pension Service of Korea and Hines, similarly retain their 49.5 percent interest.
SL Green and Hines are co-developers of the $2.3 billion project, which will transform the existing full-block structure into a 27-floor, 1.4 million-square-foot office tower. One Madison Avenue is intended to artfully join the existing limestone building with more than 500,000 square feet of new, nearly column-free construction.
---
READ ALSO: NYC Market Update: Transaction Volume Struggles to Bounce Back
---
Currently, demolition has been completed, structural reinforcement is substantially complete and vertical construction is underway; the project is scheduled to deliver in about 23 months.
Planned amenities include a 13,000-square-foot upscale restaurant, 10,000-square-foot artisanal dining market and 7,000-square-foot tenant lounge with direct elevator access to a 10,000-square-foot rooftop deck.
In late 2020, SL Green closed on New York City's largest-ever office construction facility, a $1.3 billion construction loan for One Madison Avenue.
SL Green's sale of its ownership interest in the office and garage condominiums at 110 E. 42nd St. to Meadow Partners yielded a gross sale price of $117 million. The transaction is expected to close by year's end, and proceeds will be used for SL Green's share repurchase program.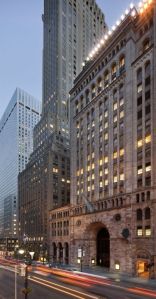 Harrison Sitomer, senior vice president of SL Green, said in a prepared statement that the company continues to see demand for well-located assets near transportation in Midtown and across Manhattan. "Completion of this transaction at an attractive cap rate represents another successful execution in our ongoing strategy to divest of non-core assets and accretively reinvest the capital into our deeply discounted stock," he added.
110 E. 42nd St. is directly across from Grand Central Terminal and SL Green's One Vanderbilt Avenue development.
SL Green, together with its joint venture partner, Stonehenge, sold the leasehold interest in 1080 Amsterdam Ave. for a gross sale price of $42.5 million. The transaction is expected to close in January.
The 82,250-square-foot, 20-story pre-war elevator building is just south of Columbia University's campus and features 96 apartments units.
Starting to come back
In a prepared statement, SL Green Chairman & CEO Marc Holliday said that New York City's investment market remains resilient, and the One Madison Avenue transaction demonstrates the strong appetite by institutional investors for trophy assets located in prime sub-markets.
Despite the Delta variant's spread, which derailed many companies' reopening plans, the Manhattan office market saw leasing in the third quarter hit its highest level—about 4.7 million square feet—since early 2020, according to a recent report from JLL.
This demand, JLL noted, "points to long-term confidence in the value of the office workplace and its role in retaining and attracting top talent."