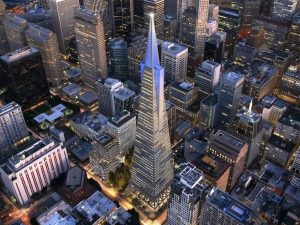 San Francisco's second-tallest building is getting a $250 million makeover. As first reported by the San Francisco Chronicle, developer SHVO has appointed international architecture firm Foster + Partners to redesign Transamerica Pyramid Center, the iconic block-wide office complex in the city's North Financial District.
In addition to the landmark Transamerica Pyramid tower, the office redevelopment project will also encompass the adjacent building—for which an additional $150 million was earmarked—and the historic Redwood Park. SHVO announced its decision to hire Foster + Partners after a selection process that included international firms Bjarke Ingels Group and David Chipperfield Architects.
Designed by futurist architect William Pereira, the 48-story Transamerica Pyramid first opened its doors in 1972. The property totals 763,000 square feet, including the two adjacent office buildings that were completed in 1930 and 1981.
The Foster + Partners redesign aims to tie all three buildings with ground-level improvements and additions. The Transamerica Pyramid will undergo a full interior renovation, with the stated goal of creating wellness-oriented, upscale office spaces that appeal to the current flexible nature of workspace demand. Retail spaces will be added throughout, while the two middle floors will include a lounge and conference facilities. The top floor will feature a private bar and lounge.
Public and community emphasis
Transamerica Pyramid is located at 600 Montgomery St. At the street-level, the developer aims to enrich the area with landscaping that will revitalize public and community life. Redwood Park—comprising nearly 50 mature redwood trees—will benefit from these upgrades, while the eastern alleyway from Sansome Street will see the addition of plum blossom trees, cafés, shops and restaurants.
The office tower currently offers distinct floorplates that range between 3,000 and 20,000 square feet. In 2019, the building was LEED Platinum certified. Current tenants include Northwestern Mutual, CORE, Callan Associates and Sterling Bank & Trust, among others.
Market favors high-quality assets
The Pyramid Center traded only once since its construction. According to CommercialEdge, SHVO acquired the three-building property in 2020 in a $650 million transaction from Aegon USA Realty Advisors.
The aftereffects of the global crisis have accelerated the flight to quality phenomenon across office markets, the latest CommercialEdge report shows. In San Francisco, over 5.2 million square feet of office was underway as of February, representing 3.3 percent of total stock.
Another block-sized project in the Financial District was announced at the end of last year. Hines' multi-tower redevelopment for the former Pacific Gas & Electric headquarters is currently underway on Mission Street, after the property traded for $800 million in September.