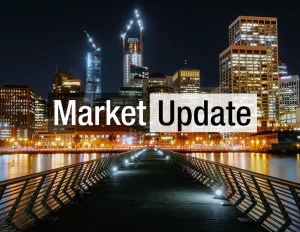 Office leasing activity in the San Francisco-Peninsula market was sluggish in April, as the metro continues to lag other gateway markets in the recovery. Average office vacancy increased by 10 basis points month-over-month, to 17.4 percent as of April, CommercialEdge data shows—nationwide vacancy was 15.7 percent, down 30 basis points year-over-year.
Although still among the priciest metros, San Francisco has experienced a steady decline in listing prices. The average full-service equivalent listing rate dropped 7.0 percent year-over-year, to $63.71 as of April. On a national level, rates were down 2.5 percent, to $37.37.
Compared to other gateway markets, San Francisco continues to lose ground. Only Chicago recorded a higher vacancy, at 20.2 percent as of April. Meanwhile, Manhattan (14.2 percent) and Los Angeles (12.9 percent) both improved slightly.
As the hybridization of office work continues, more and more companies are either downsizing or moving from core urban submarkets. San Francisco's North and South Financial District submarkets recorded some of the highest numbers, at 17.0 percent (unchanged from the previous month) and 19.0 percent (up 40 basis points month-over-month) in April. The SoMa submarket was among a few that recorded an improvement, with vacancy dropping by 60 basis points month-over-month, to 21.8 percent.
Development still strong
Aside from struggling vacancy, the office sector in San Francisco continues to see healthy levels of development activity. As of April, the Peninsula market had 5.4 million square feet of office space underway, or 3.4 percent of total stock—220 basis points above the national rate.
Two office properties broke ground in April in metro San Francisco. Google started work on the first two buildings—totaling 440,000 square feet—of its new YouTube offices in San Bruno. Approved by the City of San Bruno last year, the Bayhill Office Center could see the addition of up to 2.4 million square feet of new office space over 20 years.
A common theme among gateway markets is an increased preference for mixed-use buildings and flexible environments, this often takes the form of redeveloping older stock. Two of the largest projects currently under development in San Francisco's Financial District—both block-sized—feature additional uses for space aside from offices. Developer SHVO will invest $250 million for the redevelopment of Transamerica Pyramid. Foster + Partners will redesign the 763,000-square-foot property, with ground-level improvements aimed for its three office buildings. Earlier this year, Hines also shared plans for its block-sized redevelopment of the former PG&E headquarters at 200 Mission St.—it will feature a multifamily component in addition to 1.6 million square feet of office space.
CommercialEdge covers 8M+ property records in the United States. View the latest CommercialEdge national monthly office report here.