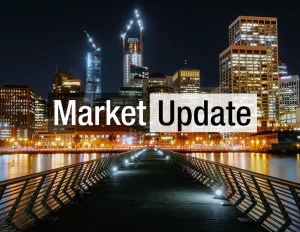 In November, office vacancy in the San Francisco-Peninsula market reached 14.8 percent, up 410 basis points year-over-year and 40 basis points below the national average, CommercialEdge data shows. The rate improved only 20 basis points since September.
Despite vacancy being higher than what it was at the beginning of the year (11.8 percent in January), San Francisco's lease rates continued to rise, in part due to the continued interest in life science properties. The average full-service equivalent was $69.18 in November, a decrease of 1.6 percent year-over-year, but still the second-priciest metro for office properties. Only Manhattan's rates were higher, at $83.52.
New office buildings were sought by tech and life science companies. In South San Francisco, office vacancy was 6.8 percent in November, up 180 basis points since September. Massive life science properties are underway in the submarket, such as BioMed Realty's Gateway of Pacific, planned to offer 2.2 million square feet. SmartLabs recently announced plans to lease 140,000 square feet at the campus, with the goal of eventually scaling up operations to 2 million square feet.
Submarkets where vacancy improved since September include San Mateo (down 160 basis points, to 18.4 percent in November) and Menlo Park (down 380 basis points, to 13.9 percent). Core urban submarkets continued their trajectory. In the North Financial District, vacancy stagnated, at 15.1 percent, while the South Financial District recorded an uptick of 240 basis points, to 17.5 percent. Vacancy in the SoMa submarket increased by 270 basis points, to 19.0 percent.
In the Bay Area—comprising the East and South Bay—market, office vacancy reached 16.0 percent, 30 basis points lower than what it was in September and up 220 basis points year-over-year. In Sunnyvale, Meta recently signed a lease for over 700,000 square feet with Tishman Speyer. Vacancy in the Sunnyvale North submarket was at 1.6 percent in November, down 210 basis points since the end of the third quarter. In urban markets, vacancy continued to rise. In downtown Oakland, the figure was 22.4 percent as of November, down 70 basis points since September. San Jose's CBD recorded an uptick of 100 basis points, to 23.5 percent, while Fremont also recorded an increase of 50 basis points, to 8.7 percent.
CommercialEdge covers 8M+ property records in the United States. View the latest CommercialEdge national monthly office report here.