By Scott Baltic, Contributing Editor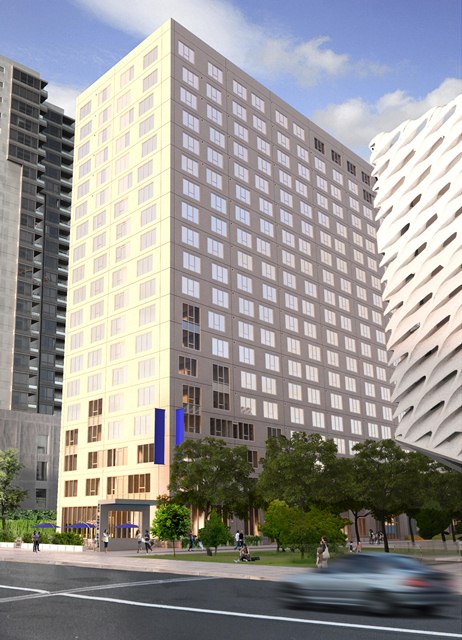 Related California has broken ground on a $120 million, 19-story, 271-unit apartment building in downtown Los Angeles' Grand Avenue Project, Related announced Thursday. The tower, at 225 N. Grand Avenue between 2nd and 3rd streets, is the first residential phase of the Grand Avenue Project and will include 20 percent affordable apartments.
The building reportedly will bring the first apartments to the Bunker Hill area in more than a decade and add 500-plus new residents. The project, which will also include a 5,000-square-foot ground-floor restaurant space, is scheduled for completion in the fourth quarter of 2014.
The first component of the Grand Avenue Project to be completed was Grand Park, which opened last July and encompasses 12 acres between Bunker Hill itself and city hall. The park was funded by a $50 million contribution from Related.
The rest of the Grand Avenue Project totals about 9 acres. Although most of the project sites are on the east side of Grand Avenue, the apartment tower is west of Grand, as is the site for The Broad, a new contemporary art museum now under construction and set to open in 2014.
The apartment tower reportedly was originally planned to be developed in the larger project's second phase, but in part because of the recession, Related and the Grand Avenue Authority (the project's joint powers authority) agreed to move forward on the high-rise earlier.
The site is within walking distance of the Walt Disney Concert Hall, the Music Center and the Museum of Contemporary Art and across Hope Street from the Metro's planned Regional Connector station, which will link the Blue Line and Exposition Line with the Gold Line and Union Station.
The new apartment building will be LA's first high-rise designed by Arquitectonica and will be built to LEED Silver standards. The executive architect is LARGE Architecture, Rios Clementi Hale Studios is landscape architect, and Marmol Radziner & Associates is handling interior design. Pankow is the general contractor.
Construction loan financing is by Citi Community Capital with an equity letter of credit from Ohio State Teachers Retirement System. Low-income housing tax credit equity comes from Boston Financial, while the Grand Avenue Authority has provided an affordable housing loan and grant.
According to the Casden Real Estate Economic Forecast 2012 Multifamily Market Report from the University of Southern California Lusk Center, multi-family demand rose in L.A. in 2011, marking the third straight year of increasing strength. The report attributed this to slowing multi-family construction and to "a nationwide trend of families moving from shadow-market inventory back to traditional multifamily product …"
After experiencing 1,900 net move-outs in 2010, the Intown submarket bounced back with 4,340 net move-ins in 2011. Its occupancy rate of 96.8 percent at that time was almost the highest in Los Angeles County.