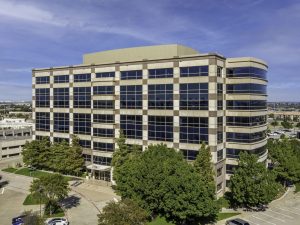 Multiview has signed a 82,093-square-foot headquarters lease renewal with Regent Properties at One Panorama Center in Irving, Texas. Transwestern arranged the agreement on behalf of the landlord, and JLL represented the tenant.
The eight-story office building at 7701 Las Colinas Ridge offers five suites across 208,448 rentable square feet as well as four parking spaces per 1,000 square feet.
One Panorama Center is adjacent to a large retail center west of the I-635 intersection with President George Bush Turnpike, roughly 16 miles northwest of downtown Dallas.
Regent Properties acquired the 1998-built asset in 2014 from Boxer Properties, according to CommercialEdge data. The advantage of nearby retail and recent upgrades made by the current owner drove the tenant's commitment to the location, Transwestern's Nathan Durham said in prepared remarks.
Multiview, a business-to-business marketing agency, is the anchor tenant, with a workforce of 350 employees. The company shares the building with Jora Credit and SCSK USA, a subsidiary of a Japanese IT company.
Along with its Irving headquarters, Multiview has three other locations in Salt Lake City, Washington, D.C., and Toronto.
DFW's Recovering Office Market
With companies reconsidering office needs and subleasing practices expanding, Dallas-Fort Worth's commercial real estate is still far from its pre-pandemic performance. Some 2.5 million square feet of new office leases closed in the second quarter, a recent Cushman & Wakefield report shows, considerably lower than the quarterly average between 2017 and 2019.
The vacancy rate clocked in at 18.5 percent in June, a 20-basis-point drop over the month—but still 290 basis points above the national rate, CommercialEdge data shows. Class A absorption remained negative—down 86,252 square feet—in the second quarter, according to the same Cushman & Wakefield report. However, upscale space has performed better than Class B properties, which registered a whopping 762,004 square feet of negative absorption during the same period.
Recently, the Irving office submarket received a boost as Credit Union signed a 30,000-square-foot lease in Cawley Partners' 200,167-square-foot Las Colinas Highlands, bringing 300 jobs to the area, Irving Weekly reported.