By Scott Baltic, Contributing Editor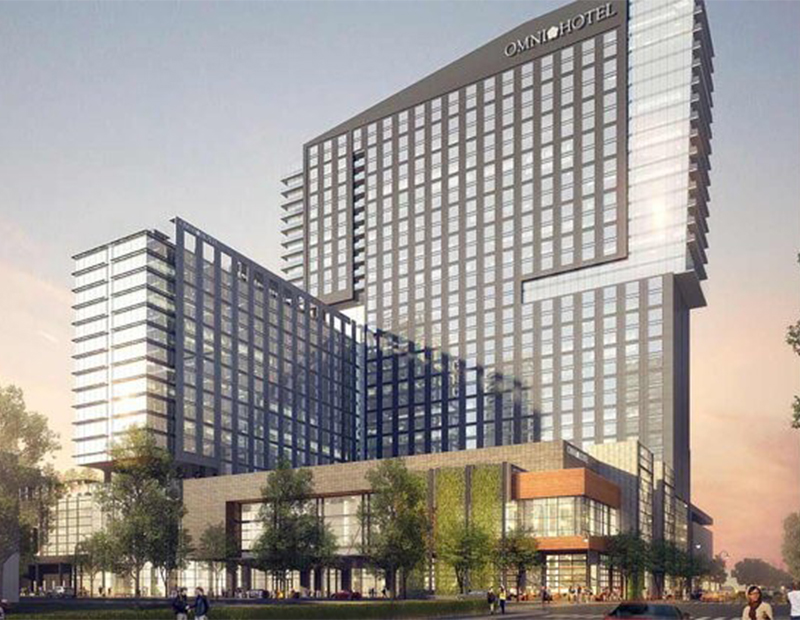 More than two years after it broke ground in January 2016, the Omni Louisville Hotel, the city's tallest hotel, has officially opened. The $300 million, 612-key property was a joint venture of Omni Hotels & Resorts and Metro Louisville.
Omni Louisville features about 70,000 square feet of flexible meeting and event space, and atop the hotel, 225 one- and two-bedroom luxury apartments are available for preleasing.
The Omni's dining and beverage options comprise Bob's Steak & Chop House (fine dining); Neighborhood Services restaurant (all-day dining); Pin + Proof, a speakeasy with four professional bowling lanes; The Water Co., a rooftop pool deck and bar; the Library Bar with cocktails and local art; and Lewis + Louis, a bourbon retail and tasting room; as well as Falls City Market, a 20,000-square-foot urban food market, with grocery staples, food stations, a bakery, a bookstore, a wine shop, a flower shop and an El Toro food truck.
Other amenities include a rooftop pool deck, a fitness center, a Mokara signature spa and a local art gallery.
Convention center expansion drives hotel growth
A $180 million expansion and renovation of the Kentucky International Convention Center, which is less than two blocks from the new Omni, is currently scheduled for completion in August. Because the expansion forced the existing portion of the convention center to close, the reopening promises to be a huge milestone for downtown Louisville's hoteliers.
Besides Omni and among the more than a dozen hotel projects in the pipeline, other brands newly entering the Louisville market include Tru by Hilton, Home2, AC Hotels, Cambria and Farmington, according to a recent report by Integra Realty Resources. The 152-key AC Hotels NuLu is being built with a modular construction approach that Marriott expected to use in about 13 percent of its new projects in North America last year.
Image courtesy of Omni Hotels & Resorts