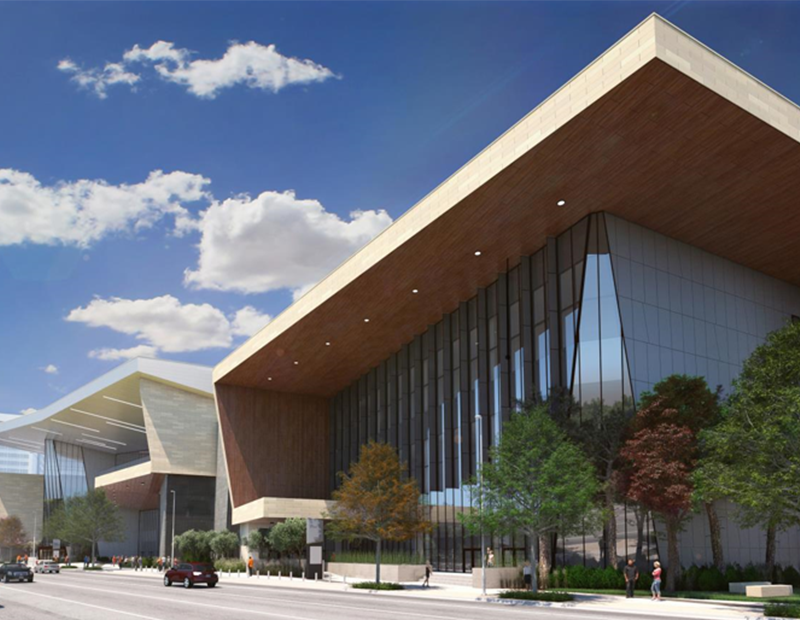 The new Oklahoma City Convention Center, which got underway in June 2018 and is scheduled for completion in late 2020, was topped out. The $288 million project is on the east side of Robinson Boulevard, between SW Fourth and SW Seventh streets, across from the 70-acre Scissortail Park, which opens next month. The site is also adjacent to the Omni hotel that's currently underway and scheduled to open around the time the convention center does.
---
READ ALSO: Denver-Area Hotel/Convention Center Lands $800M Refi
---
The convention center will feature a 200,000-square-foot exhibit hall that can be subdivided into up to four flexible spaces. An additional 45,000 square feet of meeting space can provide as many as 27 individual meeting rooms. On the fourth level, a 30,000-square-foot ballroom will be complemented by 10,000 square feet of pre-function space and a 4,000-square-foot balcony. The facility will also include informal meeting spaces, a kitchen, a potential café space, a loading dock and administrative offices.
The angular façade with its glass walls is intended to make maximum use of natural light. The landscaping will use native plants and trees suited to the local climate. A skywalk will connect the building to a new parking garage.
The Omni hotel under construction adjacent to the convention center will encompass 576 guestrooms and 29 suites, along with a spa, a fitness center, a pool deck with bar and grill, as well as multiple dining options.
The new convention center will supplant the existing Cox Convention Center, the fate of which will be determined by the Oklahoma City Council once the new convention center is complete, a city spokesperson told Commercial Property Executive. She added that redeveloping the Cox site is an option.
A history of civic investment
In 1993, Oklahoma City residents approved a multi-year temporary sales tax to fund a redevelopment package that's now in its third iteration. Called Metropolitan Area Projects (MAPS), the program has leveraged more than $3 billion in private investment since then.
The current MAPS 3 was funded by a one-cent sales tax that began in April 2010 and ended in December 2017. The new convention center is only one of eight projects funded under this $805 million capital improvement program.
City-wide Oklahoma City had 17,166 hotel guestrooms as of March, of which 2,794 were downtown, according to Visit OKC.