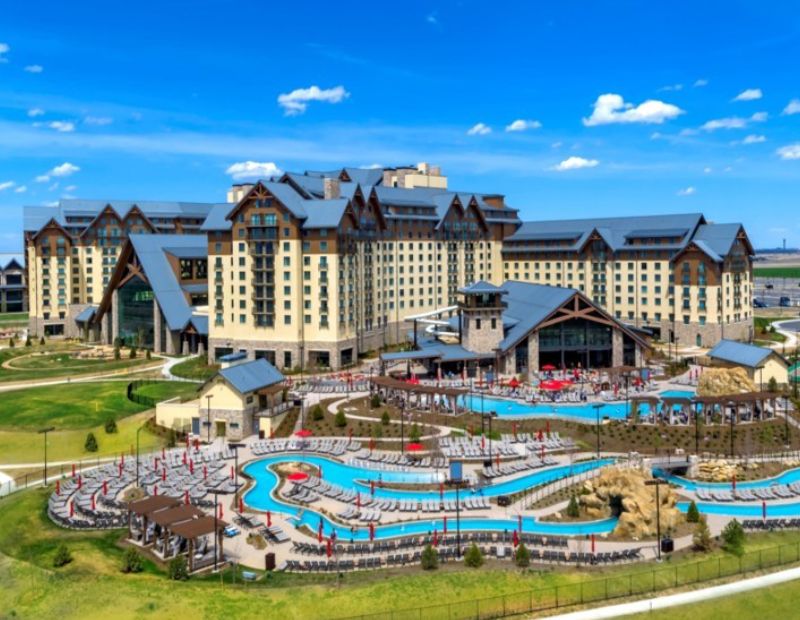 The joint venture that owns the recently completed Gaylord Rockies Resort & Convention Center in Aurora, Colo., has refinanced the property, according to an announcement by its majority owner, lodging REIT Ryman Hospitality Properties Inc., of Nashville. The minority partner is RIDA Development, a private developer based in Houston.
The loan package refinances the prior construction loan and mezzanine loan, which were scheduled to mature in December. The new financing agreement consists of an $800 million term loan and a further $80 million of borrowing capacity, if the joint venture decides to pursue a future expansion. The new loan matures in July 2023 with three one-year extension options and bears interest at LIBOR plus 2.50 percent.
---
READ ALSO: Industry Watches as Fed Says No Rate Cut—For Now
---
The loan is secured by a deed of trust lien on the Gaylord Rockies real estate and related assets. In addition, Ryman and an affiliate of RIDA entered into limited guaranties of 10 percent of the principal debt. Other than those guaranties, which are to be released once the project achieves a certain debt service coverage threshold, and a completion guaranty in the event the expansion is pursued and customary carve-outs, the loan is non-recourse to Ryman. Wells Fargo is the loan's agent and arranger.
Simultaneously with the loan closing, the joint venture entered into an interest rate swap to fix the LIBOR portion of the interest rate at 1.65 percent for the first three years of the loan. After using the loan proceeds to repay the construction and mezzanine loans and certain expenses, the joint venture will distribute excess proceeds to its owners.
Ryman, which owns 61.2 percent of the Gaylord Rockies joint venture, expects to receive a distribution of about $153 million, which it will use to repay a portion of the outstanding indebtedness under the REIT's revolving credit facility.
Gaylord Rockies Resort & Convention Center features 1,500 guestrooms and 114 suites, 409,000 square feet of indoor meeting space, five outdoor event spaces, eight food-and-beverage outlets, an indoor-outdoor water complex, and full-service spa. The $795 million property opened in December 2018 and is managed by Marriott International.
An interesting history
Unsurprisingly perhaps, the road from concept to completion was much longer and rockier for the resort than originally planned. Among other situations, Ryman's conversion to a REIT in 2012 put its role in the project in doubt.
By January 2016, however, a $500 million construction loan led by Wells Fargo was arranged. In September 2018, there was another curve-ball when co-developer Ares Management sold its stake in the project to Ryman and RIDA for $270 million.