NYC Market Update: Key Development Takeaways of 2021
While renovations and conversions dominated construction activity, a few new projects also broke ground.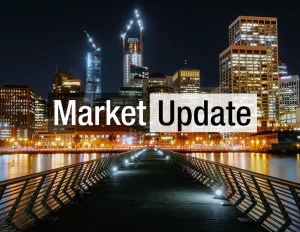 As of December, Manhattan's office pipeline totaled 19.2 million square feet, down 3.4 percent year-over-year, according to CommercialEdge data. Space under construction represented 4.1 percent of total stock, down 10 basis points since 2020. As a silver lining, when factoring in planned stock, the rate increased 30 basis points year-over-year, to 5.4 percent.
Spearheaded by banks and investment firms, New York City's employers and landlords have been anxious to bring the workforce back in the traditional office setting, but the rise of new variants has been holding back the Big Apple's relaunch.
As a result of serious headwinds, it doesn't come as a surprise that Manhattan is following national trends of shrinking construction volume in the office sector. Through 2021, just a few new projects have broken ground and deliveries were also scarce. New construction activity has been dominated by renovations, as landlords recognized a pandemic-induced window of opportunity to upgrade aging assets.
Office Completions
The first condo building within the Essex Crossing mixed-use development on the Lower East Side included one of the most significant new office spaces that opened last year in NYC. Taconic Partners, along with L+M Development Partners and BFC Partners are behind the megadevelopment which The New York Times called "the anti-Hudson Yards".
Known as One Essex Crossing, the mixed-use building's 55-unit condominium component sold out in February 2021, according to CityRealty. The neighboring, also mixed-use building dubbed The Artisan delivered in 2020. Together, the two properties offer 350,000 square feet of Class A office space, marketed as Essex Crossing Offices.
Last October, wireless network giant Verizon signed up for nearly 143,000 square feet across three stories at 155 Delancey St., under The Artizan, according to the New York Post. The tenant has an option until late 2022 to lease the remaining space at Essex Crossing Offices, including 35,000 extra square feet at 155 Delancey St. and 175,000 square feet at 145 Delancey St.
Over in Brooklyn, downtown's tallest office tower opened in June. Developed by JEMB Realty Corp., the 500,000-square-foot, 36-story tower is the first to be completed since the 2004 Downtown Brooklyn rezoning.
New construction
Despite lowered construction activity, NYC still led commercial and multifamily construction starts during the first half of 2021 by far, at a value of $12.6 billion, according to a report by Dodge Data & Analytics. On the commercial side, starts were up 4 percent year-over-year, with industrial projects overshadowing office and hotel developments.
The $242 million mixed-use Urban League Empowerment Center was one of the few such properties to break ground last year. Developed by a joint venture of BRP Cos., L+M Development Partners, Taconic Investment Partners, The Prusik Group and Dabar Development Partners, the building replaces a former parking structure in Harlem.
The new development will encompass NUL's 42,000-square-foot headquarters, New York's first civil rights museum, the National Urban League Institute for Race, Equity and Justice, along with additional office space for community groups, as well as affordable housing.
In July, New York City's first spec office building since the global health crisis dubbed 555 Greenwich in Hudson Square also commenced construction. The 270,000-square-foot building will become one of the most energy-efficient buildings in NYC. The development team includes a joint venture between Trinity Church Wall Street and Norges Bank Investment Management, with Hines the operating partner.
Life sciences in Manhattan
Landlords have not only been polishing their office buildings, but also repurposing them. Office to life sciences conversions have been popping up all over the country, as the COVID-19 crisis propelled research into the limelight.
Taconic and Nuveen are redeveloping the eight-story 125 West End Ave. on the Upper West Side into a 400,000-square-foot life science and research facility. Formerly home to the Walt Disney/ABC broadcasting company, the building has been vacant since the beginning of 2021. The owners paid $230 million for the asset in 2019.
Janis Property Group completed its Taystee Lab Building lab property in West Harlem. The 350,000-square-foot, 11-story purpose-built life science facility broke ground in May 2019. The name of the property refers to the Taystee Cake Bakery Factory that once rose on the site.
CommercialEdge covers 8M+ property records in the United States. View the latest CommercialEdge national monthly office report here.