Metro New York led commercial and multifamily construction starts during the first half of 2021 by far, at a value of $12.6 billion, according to a report by Dodge Data & Analytics. Compared to the same period in 2020, the figure was up by 8 percent.
On a national level, the value increased by 10 percent during the first half of the year when compared to the first six months of 2020, to $108.5 billion. The positive movement is partly due to the pandemic-induced construction woes back in early 2020. When compared to 2019 levels, total U.S. commercial and multifamily starts were down 5 percent.
In terms of relative year-on-year growth, San Diego recorded the largest leap, hitting a whopping 171 percent increase, followed by San Francisco (114 percent) and Philadelphia (86 percent).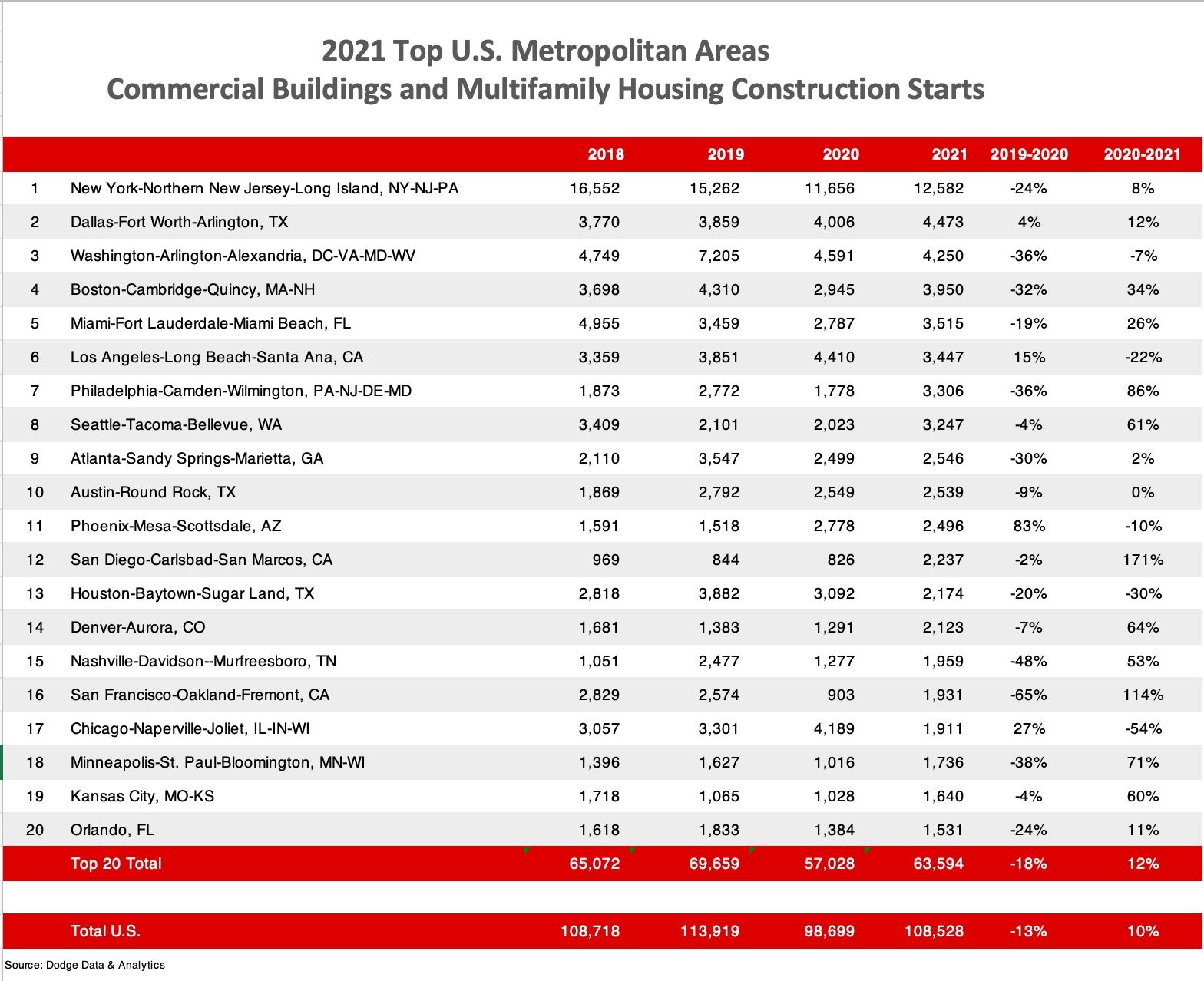 NYC construction in focus
Considering the peculiarities of last year's second quarter, looking at pre-pandemic 2019 as a gauge offers a different perspective. In metro New York, commercial and multifamily starts this year were down 18 percent from the first half of 2019, showing that real estate still has some catching up to do, at least across most gateway metros.
On the commercial side alone, NYC starts were up 4 percent compared to 2020, spearheaded by industrial projects, while office and hotel starts lagged. The recent $1.2 billion groundbreaking of the Terminal Warehouse conversion in West Chelsea dominates recent pipeline additions. Another significant commercial project that kicked off this year is a $316 million Amazon warehouse in Queens, developed by LBA Logistics and RXR Realty.
Not all boroughs are created equal, however. Case in point, office construction in Manhattan actually recorded a 15 percent jump year-over-year as of June, according to CommercialEdge data. After the increase, the borough's office pipeline surpassed 20 million square feet underway.