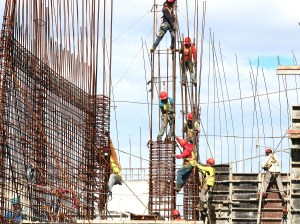 Construction starts for commercial and multifamily real estate in metro San Francisco—including Oakland and Fremont—have gained momentum in the first six months of the year, indicating a surge in confidence among developers, according to a report by Dodge Data & Analytics. Compared to the first half of 2020, the dollar value of construction starts increased by 114 percent.
During the first six months of this year, construction starts in San Francisco reached $1.9 billion, Dodge data shows, well above 2020's first half, when the figure hit $903 million.
The construction pipeline for office properties in the San Francisco Bay Area, for example, is growing, with the metro positioned for a return to pre-pandemic levels. As of June, CommercialEdge data showed there was 10.9 million square feet of office space underway, with 9.4 million square feet slated for delivery by year-end. This includes many projects that broke ground before the pandemic reached critical levels, but activity in the metro was also buoyed by large new projects, such as Kilroy Realty's $940 million life science project in South San Francisco.
It's no surprise that pandemic-induced delays across major cities slowed construction to a crawl at some point in the past year and a half, with some large projects bearing an uncertain fate. Compared to pre-pandemic levels, San Francisco still has some catching up to do, with the value of construction starts in the first half of 2021 down 24 percent compared to two years ago.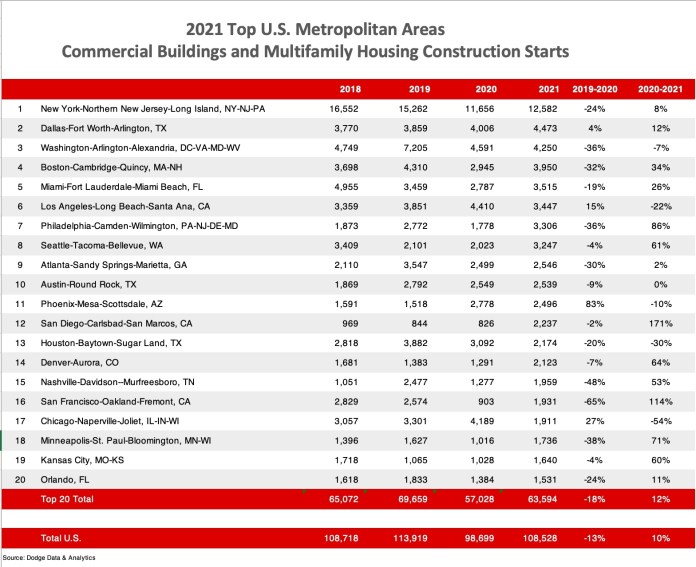 San Francisco is faring better than Los Angeles which, alongside Houston (-30 percent), Phoenix (-10 percent) and Chicago (-54 percent) recorded significant drops from last year. In L.A., commercial and multifamily construction starts declined by 22 percent (to $3.4 billion) compared to the first six months of 2020.
In San Diego, on the other hand, the value increased by 171 percent—to $2.2 billion—when compared to the first half of 2020. The city is poised to exceed pre-pandemic levels, as the figure for 2019's first half was estimated at just $844 million.
Nationally, the value of commercial and multifamily construction starts increased by 10 percent year-to-date through June, reaching more than $108 billion. Still, when compared to pre-pandemic levels, the value is down by 4.7 percent nationwide, with the figure for the first half of 2019 clocking in at more than $113 billion.