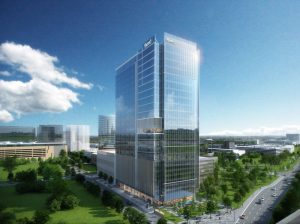 Minneapolis-based development firm Ryan Cos. announced they will build a new, Class AA office tower in the Dallas suburb of Plano, Texas.
The tower is already 50 percent preleased to Ryan LLC, a tax and technology consulting firm which is not affiliated with the developer. Ryan LLC will relocate its corporate headquarters from the nearby Galleria Office Towers.
The 400,000-square-foot office building will be located in Legacy West, the $3 billion mixed-use development with office, retail, hotel and residential in the heart of Plano, about 20 miles north of downtown Dallas.
Ryan Cos. is planning to kick off construction in early 2022, and JLL has been tapped to lease the remaining office space at the property. Architecture firm Gensler is designing the tower, which is expected to be completed in the first quarter of 2024. A representative for Ryan declined to elaborate on the financing and total cost of the project.
---
READ ALSO: KDC Eyes New Towers at $2B Dallas Campus
---
Tenant amenities at the 24-story building will include a fitness center, conference rooms, a tenant lounge, outdoor green space and bike storage.
Ryan Cos.' Vice President of Real Estate Development Paul Rowsey said in prepared remarks that the new office tower will complement the retail and dining options at Legacy West and give office tenants at the building an 'elevated' experience.
The news comes a few months after the completion of Chase Tower at Legacy West. The 540,000-square-foot office tower is the tallest building within the development and has a tenant roster including Boeing, Toyota's North American headquarters, SAP, FedEx and Liberty Mutual Insurance.
More than 30 retail stores and 20 restaurants have outposts at the 250-acre Legacy West project, while major companies include JP Morgan, Toyota and Liberty Mutual all have large office footprints within the development.
In the works
Ryan Cos. acquired the development site where the office tower will rise back in 2017, according to a report from the Dallas Morning News, which also noted that the firm filed plans last month with the city of Plano to build two properties on the site: a 23-story tower and a 10-story building.
The large-scale Legacy West project first broke ground in 2014 and officially opened in the summer of 2017. Developed by a partnership of Karahan Cos., KDC and Columbus Realty Partners, the project includes large corporate office campuses, more than 1,000 residential units, a hotel and numerous retail stores.