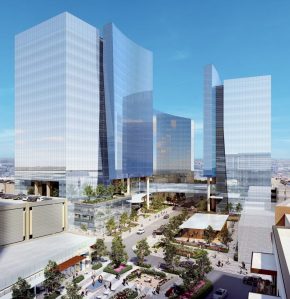 KDC is set up to develop three additional office buildings totaling 1.4 million square feet at CityLine, the 204-acre transit-oriented, mixed-use development in Richardson, Texas. The developer's plans include:
Five CityLine, an 18-story tower comprising 513,000 square feet;
Six CityLine, a 13-story building with 356,000 square feet;
Seven CityLine, a 15-story structure of 507,000 square feet.
Designed by Dallas-based Corgan, the new office buildings will feature glass facades and coatings with fritted glazing elements, flexible floorplate sizes, ground-level lobbies connected by an oval-shaped canopy and podium parking. The developments are also set to include health and wellbeing features such as fresh air filtration systems and touchless fixtures.
According to the architects, Five, Six and Seven CityLine could be interconnected through a sky bridge. KDC is also considering developing the project in a build-to-suit manner, so that it could be customized to specific tenant size and use requirements.
The office buildings will come online at the intersection of the President George Bush Turnpike and Central Expressway, adjacent to the CityLine/Bush DART light rail station. In addition, CityLine is planned to be part of DART's new Silver Line, a 26-mile corridor that extends between DFW Airport and Shiloh Road in Plano, connecting Plano, Addison and Richardson to the DFW International Airport.
Developing CityLine
KDC has been working on the $2 billion live-work-play development since 2013. Most recently, the company completed the 480,000-square-foot office building Four CityLine in 2016. That same year, the developer sold One, Two, Three and Four CityLine to Transwestern for $825 million, according to CommercialEdge data. All buildings, totaling nearly 2.1 million square feet, are leased to State Farm.
Transwestern's CityLine footprint has only grown. The company completed 3400 at CityLine, a 310,000-square-foot office building in 2017, and recently announced plans for another office development to take shape within the same mixed-use campus.
Featuring office buildings, rental units, restaurants and open space, CityLine also includes more than 50 dining and retail options and an Aloft hotel, as well as two parks with access to regional hike and bike trails. The property is home to a wellness office building anchored by Texas Health Resources and Children's Medical Center and to Raytheon's corporate campus.
At full build-out, CityLine is slated to encompass 5 million square feet of office space, 3,925 multifamily units and two hotels, as well as numerous shopping and dining venues. Approximately 30,000 people are expected to live and work at the mixed-use property.
Development activity heats up
KDC's announcement comes on the heels of several other developments that recently kicked off in the Metroplex. A few days ago, Crescent Real Estate broke ground on a $250 million mixed-use project in Fort Worth, while a 313,000-square-foot, multi-tenant office tower started to rise in August within the $1.5 billion Dallas Cowboys World headquarters and mixed-use destination in Frisco.
CommercialEdge data shows the Metroplex had nearly 5.4 million square feet of office space underway as of August, representing 2 percent of stock, 40 basis points below the U.S. average.