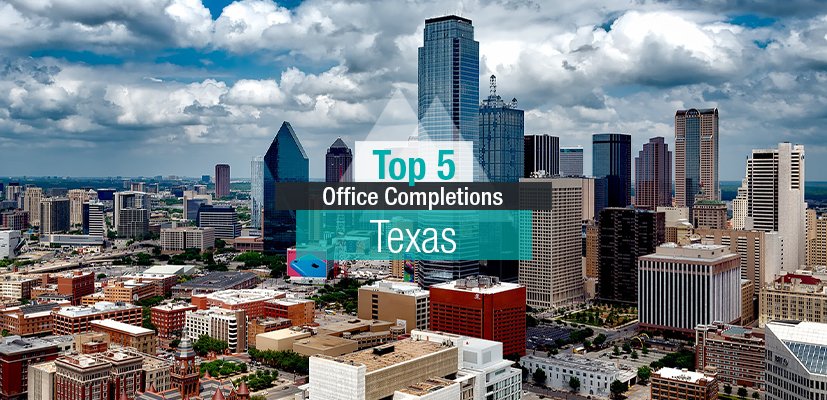 Corporate expansions and inbound migration of large companies including Uber and Dropbox stand at the base of Texas' ongoing growth. CommercialEdge data shows that 39 office properties totaling more than 6.2 million square feet delivered across the state between January and July 2021.
The most completions occurred in Austin, followed by Dallas-Fort Worth, which combined had a total of 4.5 million square feet come online, or 72 percent of the state's total. The largest project to wrap up was in Austin, though major developments in Dallas and Houston also delivered.
Construction is ongoing: As of July, 84 properties encompassing more than 11.6 million square feet were underway in the state. The list below highlights the five largest office deliveries in Texas in the first seven months of 2021, based on CommercialEdge data.
| | | | | |
| --- | --- | --- | --- | --- |
| Rank | Project | Market | Total Sq Ft | Completion Date |
| 1 | Indeed Tower | Austin | 708,438 | May 2021 |
| 2 | Chase Tower at Legacy West | Dallas | 540,000 | July 2021 |
| 3 | 5151 Maple Avenue | Dallas | 525,000 | March 2021 |
| 4 | 300 Colorado | Austin | 368,798 | March 2021 |
| 5 | Insperity Center 5 | Houston | 270,000 | March 2021 |
---
5. Insperity Center 5, Kingwood
In March, Insperity wrapped up construction on Insperity Center 5, a 270,000-square-foot building at 29829 Loop 494 in Kingwood. The human resources service provider broke ground on the 10-story project—the fifth structure at its corporate campus—in May 2019, two years after completing the 100,000-square-foot Insperity Center 4.
In addition to the office component, the building features an adjoining six-level parking garage and will house approximately 1,000 employees. Houston-based D.E. Harvey Builders was the general contractor, and Kirksey Architecture provided design services.
4. 300 Colorado, Austin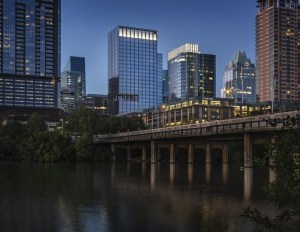 Also in March, a joint venture between Cousins Properties, Riverside Resources and Ironwood Real Estate delivered 300 Colorado, a 368,798-square-foot asset at 300 Colorado St. in downtown Austin. The building encompasses 358,798 square feet of office space, 10,000 square feet of retail on the first and second floors, and a 14-level parking deck.
The project broke ground at the beginning of 2019, funded with a $126 million construction loan from JPMorgan Chase. The development team included Stantec Consulting Services and Pickard Chilton serves as the architect. Anchor tenant Parsley Energy occupies 302,000 square feet within the building, while Del Frisco's Restaurant Group leases the entire retail component.
3. 5151 Maple Avenue, Dallas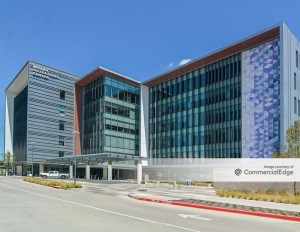 Parkland Health & Hospital System finished work on 5151 Maple Avenue in March. Construction on the 525,000-square-foot medical office building in West Dallas started in February 2019. The Crowther Group and McCarthy Building Cos. served as general contractors.
The six-story structure, located on Parkland Memorial Hospital's 22-acre campus, includes Parkland's Moody Center for Breast Health. Other services provided in the building include antibiotic therapy, an HIV clinic, palliative care, outpatient rehabilitation and an oncology clinic. It also houses the health system's administrative offices.
2. Chase Tower at Legacy West, Plano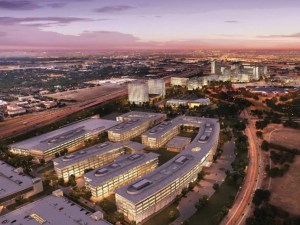 The second-largest delivery on our list is Chase Tower at Legacy West, a 540,000-square-foot building at 8181 Communications Parkway in Plano. JPMorgan Asset Management broke ground on the 12-story asset in August 2019, and construction wrapped up in July.
HKS served as project architect and Balfour Beatty as general contractor. Sitting on nearly 50 acres within JPMorgan Chase's campus at Legacy West, the asset is the tallest building within the 250-acre mixed-use development, which houses Boeing and Toyota's North American headquarters, as well as the offices of SAP, FedEx and Liberty Mutual Insurance.
1. Indeed Tower, Austin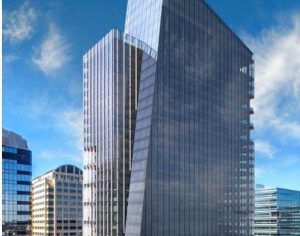 The largest office delivery between January and July 2021 was Indeed Tower, a 708,438-square-foot building developed by Trammell Crow and Principal Real Estate Investors. Rising 554 feet at 200 W. Sixth St. in downtown Austin, the building is the city's tallest office tower.
Construction on the 36-story development started in October 2017. One month after its completion in May, Kilroy Realty Corp. acquired the asset for $580 million. Employment website giant Indeed anchors the building, occupying more than 307,000 square feet, with the rest of the tenant roster including the Teacher Retirement System of Texas and law firm Vinson & Elkins, among others.