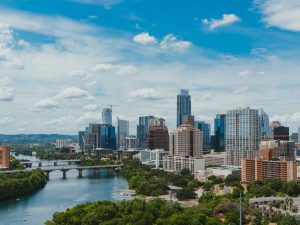 On the heels of Samsung Electronics Co. opting to build its $17 billion semiconductor plant in Taylor, Texas, another tech giant, Micron Technology Inc., is eyeing two counties part of Greater Austin, Caldwell and Williamson, as the potential site for a new U.S. plant, according to Austin Business Journal.
The company is the world's fourth-largest semiconductor company, based on Gartner Market Share Analysis, with facilities in China, Japan, Malaysia, Taiwan, Singapore and the U.S.
Chatham County in North Carolina is another potential site for the plant that is expected to create up to 10,000 jobs, among other contenders in Arizona and California. The Boise, Idaho-based company's investment of $40 billion, according to Triangle Business Journal, could far surpass Samsung's, which was noted as the largest foreign investments for the U.S. economy along with the largest economic development project in the Lone Star State.
---
READ ALSO: Austin's Top 5 CRE Stories of 2021
---
The expansion is part of a more than $150 billion plan to invest worldwide in manufacturing as well as research and development over the course of the next decade with the goal of addressing rising demand as technologies such as 5G and AI, along with the adoption of electric vehicles, continues to fuel.
Another competitor in the field, Texas Instruments, is also expanding in Texas. TI plans to invest $30 billion to develop a semiconductor wafer fabrication plant encompassing nearly 5 million square feet in Sherman, Texas. If the construction timeline is kept, production at the facility can commence as early as 2025.