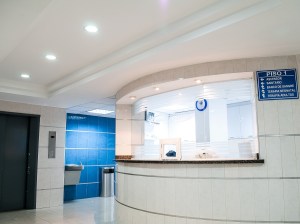 Despite reduced transaction volume, the U.S. medical office sector is showing resilience in the face of economic uncertainty.
"Health-care (real estate) is recession-proof and Covid-proof. Doctors still need a physical location to see their patients," Darren Lizzack, vice president with NAI James E. Hanson told Commercial Property Executive.
At midyear 2022, year-over-year medical office investment activity, while still robust and far above that of the traditional office sector, had waned slightly. Medical office transaction volume in the second quarter of 2022 totaled more than $2.9 billion, marking a 10.4 percent decrease from the second quarter of 2021, when transaction volume totaled nearly $3.3 billion, according to a report by Brown Gibbons Lang & Co., an investment banking and financial advisory services firm.
---
READ ALSO: CRE Investor Sentiment Signals Changing Outlook
---
While transactions slowed, year-over-year pricing went on the upswing. The average price per square foot for medical office jumped 20 percent from the second quarter of 2021 to the second quarter of 2022, reaching $356 per square foot. However, as interest rates began to inch upward, pricing on properties began to change as investors saw the cost of loans increase.
"We are seeing upward pressure on cap rates for all sectors of commercial real estate, and medical office is equally affected," Jake Zacuto, Managing Director at the Zacuto Group, told CPE. "However, medical office investment remains highly desirable as the underlying market dynamics for leasing and resale remain strong. Medical tenants overall have very low default risk and tend to offer stability even during uncertain times.
Building anew, easier said than done
The construction of new medical office buildings appears to be very market specific; there is no particular trend aside from the fact that high construction material prices and supply chain issues have translated to subdued construction activity across the U.S. In Northern New Jersey, for example, medical office construction is just beginning to recover from the consequences of the pandemic and material shortages. According to Brown Gibbons Lang, construction costs in Northern New Jersey have skyrocketed approximately 25 percent over the last 12 months.
"I haven't seen a whole lot of new development out of the ground or at least I have not been exposed to it. However, I can tell you this, the good medical space that's on the market is getting absorbed pretty quickly," Lizzack said. Lizack's team has closed more than 35 medical office transactions over the last 18 months and many of them required new construction to accommodate the tenant's needs. He noted that the average cost to build out a medical office in northern New Jersey today is approximately $100 per square foot.
New Jersey is seeing its share of adaptive reuse projects, which is also a market-specific trend. Developers are converting older office properties and smaller, size-appropriate retail spaces, especially those in strip malls or former department stores in vacant shopping malls into medical office destinations.
On the West Coast, in Los Angeles, medical office construction is even less active than it is in Northern New Jersey, but for different reasons. "In Los Angeles, new office construction, in general, is muted, and new medical office has always had historical barriers to entry due to the cost of meeting increased parking requirements and the extremely high cost of tenant improvements to build out new tenant space," noted Zacuto. He didn't share specific numbers, but the tenant improvements costs would likely be well over the average $100 per square foot seen in Northern New Jersey.
Seeing the future
Medical office construction will pick up the pace along with the rest of the real estate market when fundamentals return to normal. And while the sector may be experiencing a bit of a hiccup in investment activity due to rising interest rates, that, too, will pass. "The midyear rate market was very erratic and caused some repositioning on pricing; however, now, with a stabilization in rates, we forecast an active year-end disposition market," Clinton Parker, managing director with Brown Gibbons Lang & Co., told CPE.
The medical office sector, as noted in the Brown Gibbons Lang report, has compelling investment qualities that will always keep investors coming back, namely its long-term leases and stable tenants. The aging population and the ongoing movement toward community-based outpatient treatment as opposed to hospital-based treatment will only further the demand for medical office space over the long term. Additionally, advancements in medical technologies, as well as patient preferences and financial incentives will also contribute to the continuing demand for medical office space.
"We're bullish on the office sector overall and feel that medical office should experience rental rate growth and solid demand," Zacuto said. "The high cost of construction will act as a buoy to help keep medical office rates high. This will also trim demand for tenant relocations. Medical office tenants tend to be averse to relocation to begin with, and the high capital requirements of new build-outs may encourage existing tenants to remain entrenched in existing facilities."
Lizzack takes the medical rent forecast a step further. "I predict that there's going to be a spike in rents over the coming years for medical," he claimed. "If you run a search for medical office space, you don't come up with a plethora of options. And the options that you come across, most of those spaces have to be redone anyway. (The physicians) have got to renovate those offices and spend the money to redesign them for the needs of tomorrow."
However, Lizzack anticipates that there is one segment of the medical industry that will leave the medical office arena in its entirety. Psychiatry is going to be completely done via zoom and you're going to see, more often than not, psychiatrists give up the physical office," Lizzack said. He recounted an assignment involving a physician who had signed a lease roughly one year ago and spent a small fortune to build out the 3,500-square-foot medical office but has yet to occupy the space. Lizzack remarked, "Brand new construction, and they've never set foot to operate in the facility. Brand new. I've never seen that before."