Total U.S. construction starts declined 5 percent in June, to a seasonally adjusted annual rate of $932.3 billion, according to new data from Dodge Construction Network.
Total construction (a project's full dollar value is tallied in the month it breaks ground), however, DCN pointed out, was nonetheless 5 percent higher in the first six months of 2022 than in the same period of 2021.
Dodge also noted that "onshoring" is a trending topic in the construction sector and that manufacturing starts have increased 109 percent in the last 12 months ending in June.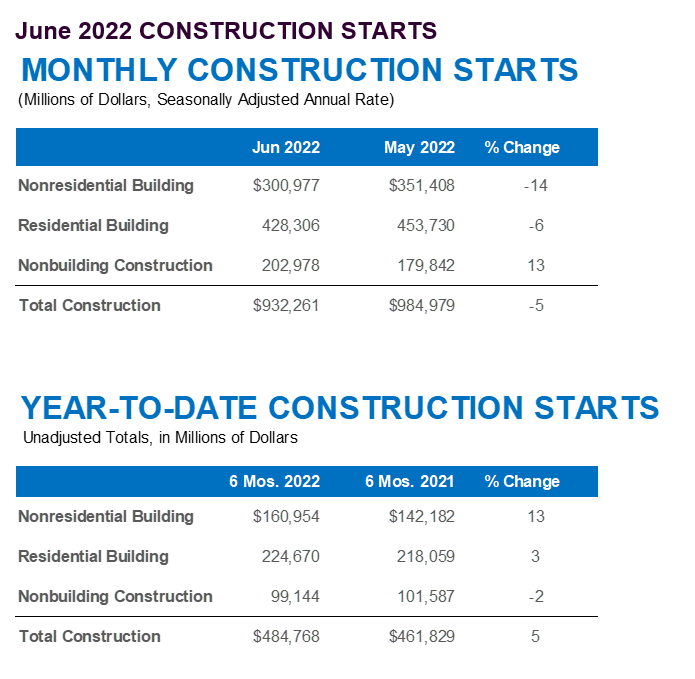 Notably, nonresidential building starts fell 14 percent during June. This was largely offset, however, by a 13 percent increase in nonbuilding starts in June, including several large solar projects.
---
READ ALSO: CRE Investor Sentiment Signals Changing Outlook
---
Construction markets are getting jittery as the odds of recession increase, said Richard Branch, chief economist for Dodge Construction Network, in a prepared statement.
"While projects are still moving through the planning process," he continued, "the velocity has downshifted reflecting uncertainties over how rising interest rates will impact the economy, construction material prices, and ultimately, construction starts. Over the short-term, construction-facing indicators are likely to be more volatile than normal, particularly in the commercial sector."
Blips or trends?
Year-to-date, total construction was 5 percent higher in the first six months of 2022 compared to the same period in 2021. Similarly, for the 12 months ending June 2022, total construction starts were 7 percent above the 12 months ending June 2021.
Nonresidential building starts dropped 14 percent in June to a seasonally adjusted annual rate of $301.0 billion. Within that category, the decline was broadly based. Commercial starts fell 16 percent, manufacturing starts were down 14 percent, and institutional starts were 12 percent lower.
Through the first six months of this year, nonresidential building starts were 13 percent higher than during the first six months of 2021. Commercial starts advanced 14 percent and institutional starts rose 1 percent, while manufacturing starts were a whopping 83 percent higher on a year-to-date basis.
Among the largest nonresidential building projects to break ground in June was an $800 million Facebook data center in Los Lunas, N.M.
Residential building starts fell 6 percent in June to a seasonally adjusted annual rate of $428.3 billion. Within that, multifamily starts were 3 percent lower, though they were up 23 percent up in the first half, versus the first six months of 2021.
The largest multifamily structures to break ground in June were the $450 million Neptune/Sixth mixed-use project in Brooklyn, the $425 million 250 Water Street apartments in New York City and the $369 million 5th & Colorado mixed-use building in Austin, Texas.