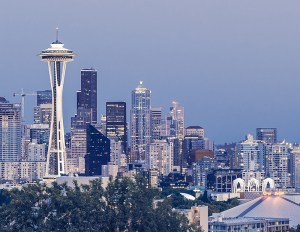 LPC West and Intercontinental Real Estate Corp. are adding another life science building to their Seattle office portfolio. The partnership has closed on a property that will be developed into a nine-story office building with spaces primarily aimed at life science tenants.
The Class A building is still in the early design stages but is expected to offer approximately 195,000 square feet. The project is located near the intersection of Fifth Avenue and John Street, putting it within walking distance to the Space Needle, Climate Pledge Arena and the Seattle Children's Museum. The life science property will also have nearby access to the Seattle Center Monorail, Metro Transit lines and Highway 99.
---
READ ALSO: Top Markets for Office Transactions in H1 2022
---
The project's location in the mixed-use South Lake Union neighborhood puts it near other major corporate offices like the Bill & Melinda Gates Foundation and Amazon. The area has also attracted tenants from the health, tech and research sectors, including Seattle Children's Hospital and the Fred Hutchinson Cancer Research Center.
Jessica Levin, senior director of acquisitions for Intercontinental, said in prepared remarks that this development will be a long-term investment for the company's portfolio. She added in her prepared statement that Seattle has strong life science fundamentals, and the area is seeing a combination of funding, growth and talent.
LPC West's growing life science portfolio
Prior to this upcoming project at Fifth Avenue and John Street, the two companies previously broke ground on an adjacent life science building. LPC West and Intercontinental started construction at 222 Fifth Ave. in June and are expecting to complete the life science development in early 2024.
To date, LPC West has been a part of more than 4.5 million square feet of transactions across all major life science markets in western U.S. Last year, the company acquired a 240,904-square-foot office campus in Pasadena, Calif., in a partnership with Angelo Gordon. The partners are renovating the Pasadena property to accommodate life science tenants.