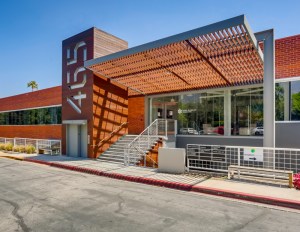 Xencor, Inc., a biopharmaceutical company developing potential treatments for cancer and autoimmune diseases, will be the anchor of 465 North Halstead, a 240,904-square-foot office campus in Pasadena, Calif., purchased by LPC West and partner Angelo Gordon. The relocation of Xencor from its current Monrovia, Calif., headquarters and lab space marks the continued growth of the life sciences sector in Los Angeles.
LPC West, the West Coast arm of national real estate firm Lincoln Property Co., and Angelo Gordon acquired the two-story building from EverWest Real Estate Investors, for an undisclosed price. The seller had purchased the property in June 2016 for $66.5 million from DivcoWest, according to CommercialEdge data.
---
READ ALSO: Where Are the Next Life Sciences Hubs?
---
Located at 465 N. Halstead St. in East Pasadena, just blocks from the Sierra Madre Village Station on Metro's Gold Line, the building was constructed in 1956. It had undergone cosmetic renovations in the past with a multi-million renovation done in 2015. The multi-tenant building has been home to tenants in the science, engineering, technology and financial industries, among others. One of those tenants is GM Cruise, a driverless car company that signed a 47,051-square-foot lease with EverWest in February 2019. The building also has 12,000 square feet of retail space.
The property will be renovated again with lab spaces to accommodate Xencor and transition the asset to a predominantly life sciences property. The company will lease approximately 148,000 square feet and is expected to begin the first part of a two-phase move in on July 1, 2022, according to a company filing with the Securities and Exchange Commission. The second phase of the lease will begin no later than Sept. 30, 2026.
Growing Life Sciences
The campus, which is in a prime location in East Pasadena, will be very well-suited to the life sciences industry, Rob Kane, executive vice president of LPC West, said in a prepared statement. The building has efficient open-plan floor plates, allowing for tenant flexibility, as well as collaborative outdoor spaces and private entrances to tenant spaces. It also has nearly 750 parking spaces for tenants and visitors.
Bassil Dahiyat, president & CEO of Xencor, said in prepared remarks the new, modern and fully customized workspace will provide the company's scientists with ample room to advance innovative protein technologies and engineer potential new therapies. Noting that Xencor was founded in Pasadena, Dahiyat said it was exciting to return and also credited LPC West for recognizing Pasadena as an important hub for growth of the life sciences sector in the greater Los Angeles region.
The Pasadena office market is attracting blue-chip companies that are drawn to the access to the talent-rich community, transit and the recent mixed-use developments that have brought new housing and development to the city. LPC West is developing 100 West Walnut, which will be a 200,000-square-foot mixed-use development with office, retail and housing near Old Pasadena.
Kevin Shannon of Newmark and his team represented the seller in the transaction. Chad Urie, Patrick Church and Josh Wrobel of JLL represented Xencor.