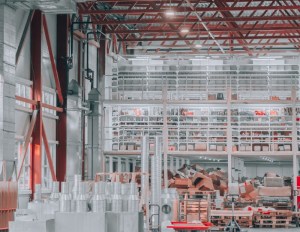 Lovett Industrial is planning the construction of a two-building, 1.7 million-square-foot industrial campus in Glendale, Ariz., dubbed NorthPark Logistics Center.
The Houston-based firm acquired 139 acres along the Northern Parkway, intending to entitle the site for speculative construction during the first half of 2022. HPA will provide architecture services, while Hunter Engineering will act as civil engineer.
NorthPark Logistics Center will be situated at the intersection of 147th Drive and Northern Parkway, within the 1,340-acre Woolf Logistics Center, just north of Luke Air Force Base. Upon completion, the campus will comprise two cross-dock buildings of 1.1 million square feet and 600,000 square feet, respectively. Each warehouse will feature 40-foot clear heights and 190-foot truck courts. CBRE's John Werstler and Cooper Fratt will spearhead all marketing and leasing efforts at the property.
The project site is roughly 25 miles northwest of downtown Phoenix and some 12 miles of downtown Glendale, along the Loop 303 corridor. The immediate area, which has been brimming with industrial development for several years now, is home to numerous warehousing and logistics facilities of big industry players such as Amazon, UPS and Walmart.
This will be Lovett's second project in Greater Phoenix. The firm is also developing I-10 Innovation Center, a two-building, 650,000-square-foot logistics project located at the southwest corner of 91st Avenue and Interstate 10 in Tolleson, Ariz.
New projects in the Northwest Valley
According to a recent Colliers report, the Northwest Valley industrial submarket had some 13.4 million square feet of space underway in the fourth quarter of 2021. More than 12 million square feet, representing 89.6 percent of the total, caters to warehouse and distribution users.
Lovett's logistics campus will neighbor some new industrial projects that have recently emerged within Woolf Logistics, a property that already comprises numerous warehouses, manufacturing facilities and cold storage developments.
In December, LXP Industrial Trust paid $100.8 million to acquire a 420-acre parcel located on the southeast corner of Reems Road and Olive Avenue, according to the Phoenix Business Journal. LXP could develop as much as 7.5 million square feet of industrial space onsite, in a partnership with Merit Properties.
On the same intersection, Ryan Cos. purchased a 53-acre site for a speculative logistics development that could encompass as much as 1 million square feet. Construction is scheduled to start in June, with completion slated in the summer of 2023.
Moreover, one of the largest business parks in southwestern U.S. is taking shape just outside Woolf Logistics Center. Also in December, Dermody Properties paid more than $52 million for some 1,000 acres in El Mirage, Ariz., with plans to develop Copperwing Logistics Center. The $1.5 billion project could see the construction of 10 million square feet in the next decade.