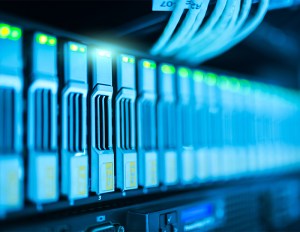 Landmark Dividend LLC, an El Segundo, Calif.,-based real estate and infrastructure acquisition and development company, has acquired approximately 1.2 million square feet of mission-critical data center space within the Quantum Park development in Northern Virginia.
Terms of the deal and the seller were not disclosed. However, a joint venture of Davidson Kempner Capital Management and American Real Estate Partners acquired the Ashburn, Va., property in December 2015 in a sale-leaseback deal with Verizon for $212.5 million.
AREP lists Quantum Park at 22001 Loudoun County Parkway on its website as a 1.5 million-square-foot office and data center property that includes a 32,000-square-foot cafeteria and 330,000 square feet of office space.
---
READ ALSO: Vantage SDC Spends $539M on Silicon Valley Data Center
---
Landmark Dividend said the Quantum Park property has available land for hyperscale data center development with 32.5 megawatts of power on-site and an additional 32.5 MW of power being brought to the site and access to 24 carriers.
Noting Northern Virginia is the data center capital of the world, John Dobo, executive vice president of Landmark's digital infrastructure division, said in a prepared statement Quantum Park provides Landmark with the opportunity to capitalize on the rapid expansion of digital infrastructure in the region. He cited Quantum Park's ample power and cooling, dense connectivity and nearly 50 acres of available land for development as reasons why the company was attracted to the site.
Landmark Dividend CEO Tim Brazy said in prepared remarks the transaction is a testament to the successful digital infrastructure platform and team they have built at Landmark. The acquisition marks Landmark's 35th digital center transaction. Digital infrastructure assets now comprise more than $1 billion of Landmark's assets under management. Brazy said the company's acquisition in June by DigitalBridge Group Inc. expanded its resources, capabilities and commitment to digital infrastructure.
Bell Nunnally & Martin and McGuireWoods served as legal counsel for Landmark in the Quantum Park transaction.
Earlier deals
Landmark had been expanding its data center portfolio even before the recent acquisition by DigitalBridge. In September 2020, Landmark Infrastructure Partners, a subsidiary of Landmark Dividend, purchased three data centers in the Midwest totaling 138,000 square feet from a market leader in web hosting and managed cloud services. The properties, which can deliver 5.2 MW of critical capacity, are fully occupied by a tenant under a 15-year net lease.
In April 2020, Landmark Dividend acquired an 184,000-square-foot data center campus in Phoenix with three data center buildings and office space. The terms were not disclosed, but according to documents obtained by Commercial Property Executive, the sale price was $122 million and the seller was PayPal Inc. The online payment company retained a lease on a portion of the property and up to 6.77 MW of power for as many as eight years.