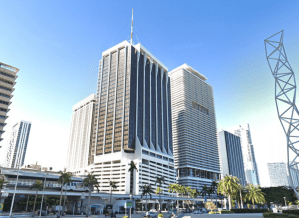 A joint venture of CP Group, formerly known as Crocker Partners, along with funds managed by Rialto Capital Management and Sabal Capital Partners, has acquired the downtown Miami office building One Biscayne Tower, CP Group announced. The purchase price was $225 million, according to The Real Deal, which first reported the purchase.
The seller was Dow Chemical, according to the announcement. L&B Realty Advisors has managed the 38-story office property since 1996, when it was acquired for $87.3 million, according to CommercialEdge data. In 2016, L&B obtained a $115 million loan on the building from lender John Hancock, set to mature in 2026.
---
READ ALSO: Downtown Miami Development Site Commands $46M
---
Built in 1971, the 1 million-square-foot tower is located at the corner of Biscayne Boulevard and SE 1st Street in the heart of downtown Miami. The building is currently 65 percent leased and is home to tenants including HSBC Bank, FTI Consulting, Jackson Lewis, and Stantec, among others. Tenant amenities at the property include a fitness center and recently renovated parking garage. One Biscayne Tower is LEED Gold and Wired certified and underwent cosmetic renovations in 1990 and 2014.
The purchase boosts CP Group's sizable footprint in downtown Miami's office market to more than 2 million square feet. The company also owns SunTrust International Center and Citigroup Center.
CP Group Senior Vice President Brett Reese said in a prepared statement that the venture plans to undertake building-wide improvements, including renovating the exterior façade, lobby, gym, lower basement level, the café and tenant floors. Their plans also call for adding a conference center.
A CBRE team of Christian Lee, José Lobón, Amy Julian and Andrew Chilgren represented the seller in the deal. A Cushman & Wakefield team that is in charge of leasing at the property—Brian Gale, Andrew Trench and Ryan Holtzma—also took part in the sale.
Miami's office development pipeline has been steadily expanding since the beginning of the year. According to CommercialEdge data, an average of 200,000 square feet of office space is added to the market every month.