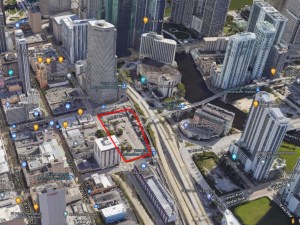 A New York-based venture of Wharton Equity Partners and Cross Lake Partners has sold one of the largest undeveloped parcels in downtown Miami, zoned for a 2 million-square-foot mixed-use development. According to South Florida Business Journal, South American businessman Enrique Manhard picked up the 2.2-acre site for $46 million.
Zoned for T6-80, the proposed development could reach a maximum height of 80 stories. Currently a parking lot, the full-block plot dubbed "Burdines Site" comprises four lots at 16 & 60 SE Second St., and 41 & 61 SE Third St. It is adjacent to the Third Street and Knight Center Metromover stations, as well as the Interstate 95 ramp, while the large-scale mixed-use Brickell CityCentre development is a few blocks away.
Following the sellers' acquisition of the distressed note on the parcel for $16.3 million from IberiaBank, the site traded in 2013 in a $32.6 million deed in lieu of foreclosure. The current deal came along with a previously approved project, designed by I.M. Pei and Miami-based Oppenheim Architecture+Design.
"The previous plans by I.M. Pei and Oppenheim expired a while back and we had developed a number of programs for the site which included office, residential, hotel and retail. Our plans called for roughly 60 stories and in excess of 1 million square feet, although the site allows for up to 80 stories and up to 3 million square feet," Peter Lewis, founder & chairman of Wharton Equity Ventures, told Commercial Property Executive.
Miami's promising market
According to Lewis, the company is actively on the lookout to acquire new sites, currently targeting industrial and mid-rise residential areas. Earlier this month, Wharton sold another 1.8-acre Miami site to Terra Group. Located at 1177 Kane Concourse within the Bay Harbor Islands submarket, the plot changed hands for $31.5 million.
One of the biggest deals in Miami since the onset of the pandemic, Blackstone's $230 million office buy in Downtown has injected new investor confidence in the Southern Florida market. In March, the investment management giant picked up 2 & 3 MiamiCentral, a pair of recently constructed Class A office buildings totaling 330,000 square feet.
"With the emphasis shifting to quality of life, the growing base on talent in technology and financial services, and Miami being the gateway to Central and South America, Blackstone's investment is going to look prescient within the next few years," Lewis commented.
He believes that the growing interest in Miami's office market will unlock the area's full potential, which has been lagging because of historically tepid interest from major outside tenants. The favorable tax climate and pro-business attitude, especially when compared to such markets as New York, New Jersey and California, will likely continue to attract capital from other parts of the country, Lewis concluded.