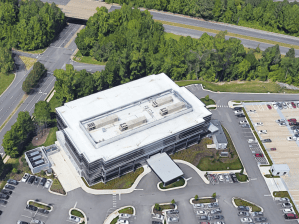 JLL Income Property Trust has its eye trained on the office sector—the medical office sector, that is—and the firm is staying on point with the recent acquisition of a premier property at 9101 Stony Point Drive in Richmond, Va. The daily NAV REIT purchased the 87,000-square-foot medical office building from Highwoods Properties in a transaction valued at approximately $52 million.
"We intend to focus on investing capital in the industrial and residential sectors, as well as complementary lower beta strategies such as health care, which fulfill key portfolio investment goals of reliable income and moderate NAV growth over time," Allan Swaringen, CEO of JLL Income Property Trust, said during the company's second quarter 2021 earnings call on Aug. 18, 2021. The asset at 9101 Stony Point fits the bill.
---
READ ALSO: Finding Opportunity in Revitalized MOBs
---
Located in a predominantly residential area roughly 10 miles west of downtown Richmond, 9101 Stony Point reached completion in 2018 as a build-to-suit project for Virginia Urology, which occupies the mission-critical property as its headquarters and outpatient facility. Highwoods developed the property for Virginia Urology at a cost of roughly $29 million, including the value of the land, which was already part of Highwoods' portfolio. The state-of-the-art MOB encompasses an ambulatory center with several operating rooms, an imaging center, an infusion center and laboratory space.
Under JLLIPT's ownership, Virginia Urology will continue to occupy 9101 Stony Point via a long-term, net-lease agreement.
Office vs. medical office—no debate
JLLIPT found itself well positioned to weather the market uncertainties that would follow when the COVID-19 crisis hit in 2020, and its investment in the steady MOB sector, which represents only a small segment of its holdings, played a large role in the REIT's capacity to fare well amid the upheaval.
"One important factor driving our success is that our portfolio had two-thirds of its investments in what proved to be pandemic-resistant property sectors: industrial, residential and health-care-related office," Swaringen said during the earnings call. "(In the second quarter of 2021) conventional multi-tenant office was the weak spot with fundamentals continuing to deteriorate. … Medical office, however, is performing better as the vacancy of 9.2 percent remains lower than conventional office and is up only 70 basis points over the last year."
JLLIPT is making progress in enhancing its health-care property footprint. In February 2021, the firm acquired 170 Park Ave., a 147,000-square-foot life science property in Florham Park, N.J., in an approximately $47 million deal. With the closing of the 9101 Stony Point transaction, JLLIPT's health-care portfolio consists of six properties valued at more than $275 million and totaling approximately 530,000 square feet. JLLIPT also has ample funds to enhance its portfolio, having secured a $650 million credit facility just a few months ago in May.