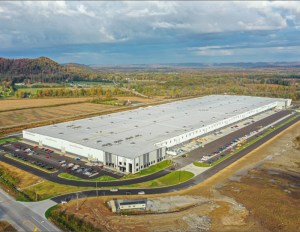 JLL Income Property Trust, which in recent months has increased its industrial holdings, has secured a $650 million credit facility to continue its growth and financial flexibility.
The credit facility with a syndicate of eight market-leading real estate lenders, contains a $415 million revolving line of credit and a $235 million term loan with an accordion feature that can boost the facility up to $800 million. It has a three-year term and bears an interest based on LIBOR plus a spread ranging from 1.35 percent to 2.10 percent.
---
READ ALSO: Canyon Partners Closes $650M Debt Fund
---
The lenders in the facility are led by JPMorgan Chase Bank N.A., as administrative agent, co-syndication agent, joint lead arranger and joint bookrunner. Also acting as co-syndication agents, joint lead arrangers and joint bookrunners are Bank of America N.A., PNC Capital Markets LLC and Wells Fargo Securities LLC. Other lenders participating are: Fifth Third Bank, National Association; BMO Harris Bank N.A.; Capital One, National Association; and The Bank of New York Mellon.
Allan Swaringen, president & CEO of JLL Income Property Trust, said in a prepared statement the eight major financial institutions recognize the REIT's investment strategy, growth and quality of its portfolio and investment performance track record. He said the expanded facility will support the REIT's growth ambitions and intent to "modestly increase leverage at the beginning of this new economic cycle." Swaringen added it will help JLL Income Property Trust accelerate acquisitions and increase its financial flexibility.
Growing portfolio
JLL Income Property Trust manages a portfolio of high quality, income-producing apartment, industrial, office and grocery-anchored retail properties in the U.S. This week, the REIT received $49 million in financing via a seven-year loan from Metropolitan Life Insurance Co. for Southeast Phoenix Distribution Center, according to public records. JLL Income Property Trust had acquired the four-building, 474,000-square-foot distribution center in February for $91 million from Conor Commercial Real Estate and WHI Real Estate Partners in an all-cash transaction.
In February, the REIT acquired a 1 million-square-foot, Class A distribution center in Louisville, Ky., for $95 million from Core5 Industrial Partners, according to Bullitt County records. The property is leased for 10 years to McKesson Corp. Also in February, JLL Income Property Trust acquired 170 Park Ave., a 147,000-square-foot life-science facility in Florham Park, N.J. for $46.6 million. CommercialEdge identified the seller as Lone Star Funds. The property is leased by Celularity Inc., a clinical-stage biotechnology company that has its corporate headquarters there along with labs and manufacturing space.