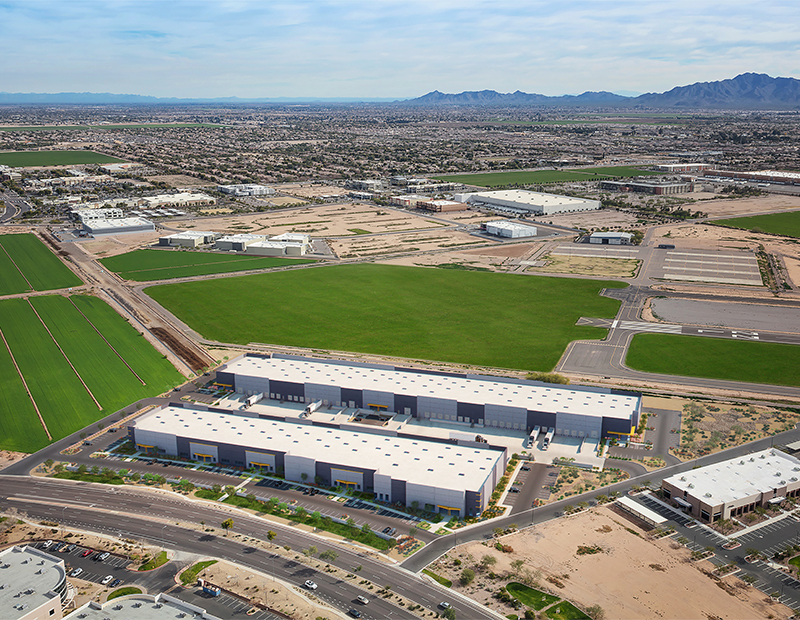 A joint venture between Jackson-Shaw and LaPour Partners has begun development on Parc Germann, a two-building urban industrial project in Chandler, Ariz. JLL will handle leasing for the 224,471-square-foot property, which is expected to open later this year. The firm's Executive Vice President Pat Harlan and Vice President Kyle Westfall will lead the project.
"The Chandler submarket is widely appealing to many companies, offering one of the best labor pools in the Phoenix area along with quality housing and amenities," Jeff LaPour, LaPour Partners' president, said in a prepared release. "Parc Germann is a significant development that will meet the growth that is feeding the demand for quality, Class A, urban industrial space."
The property will consist of the 92,261-square-foot Building A, which is located at 2215 E. Germann Road; and the 132,210-square-foot Building B, which is located at 2225 E. Germann Road. Both buildings will boast modern, flexible industrial space, including offering true dock high space, a full concrete truck court and allowing prospective tenants the ability to have storage outside.
According to LaPour, the state-of-the-art property could be utilized by any number of industries, including manufacturing, distribution, assembly and office tenants.
SW Tech Hub
Thanks to its location on 16 acres in the Chandler Airport Center, Parc Germann is expected to be a hit in the growing Chandler submarket, which has been named by many real estate experts as the "Innovation and Technology Hub of the Southwest."
According to the Economic Development Office in the state of Arizona, the PHX East Valley, which comprises Chandler, Apache Junction, Gilbert, Mesa, Queen Creek and Tempe, showed tremendous job growth in 2018, with more than 10,000 new jobs coming to the area, many in the type of businesses that could utilize industrial space. Among the companies that call Chandler home and that have experienced an influx of new employees in the past 12 months are Intel, Garmin, NXP and Microchip.
The Parc Germann development will be situated near numerous popular retail and dining options, and offers great access all around the valley. Its proximity to 101, 202 and Interstate 10 provides easy access to nearby cities. Parc Germann is also less than a 30-minute drive from Sky Harbor International Airport.
In September, Colliers International's Executive Vice President Guy Preston, told CPE that Jackson-Shaw was among a handful of developers that has consistently designed and delivered buildings in the Jacksonville marketplace.