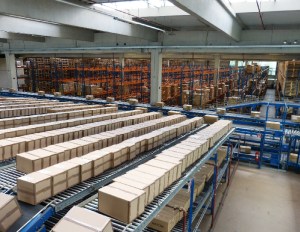 Global alternative investment manager Investcorp has acquired 89 industrial properties totaling about 2.2 million square feet across four major U.S. markets for a total purchase price of $380 million, Investcorp announced Wednesday.
The purchase brings Investcorp's U.S. industrial real estate holdings to a total of about $2.8 billion across about 27 million square feet and more than 385 buildings.
---
READ ALSO: Industrial Pricing Soars
---
The newly acquired portfolio consists of Class B industrial warehouses that are 95 percent leased to a diversified tenant base across a range of industries, including technology, industrial services, business and administrative services, and maintenance and contracting services.
These properties are primarily located in the Los Angeles, Dallas, Phoenix and Seattle metro areas. These are markets, Investcorp notes, that "have experienced strong growth in recent years as the rise of e-commerce and need for more efficient supply chains has increased demand for warehousing, distribution and fulfillment centers."
Herb Myers, co-head of Real Estate North America at Investcorp, said in a prepared statement that the company looks to invest in fast-growing regions with diversified economies, strong transportation infrastructure and access to the booming technology industry and that this is what they have found in these industrial hubs.
Michael Moriarty, principal, Commercial Acquisitions at Investcorp, added that the company's latest acquisitions capitalize on the strong demand for industrial properties as the supply-demand imbalance is expected to continue to drive exponential rent growth.
The seller was not disclosed, and an Investcorp spokesperson was unable to provide additional information.
Quantities large and small
According to Real Capital Analytics, the Bahrain-headquartered Investcorp was the third-largest cross-border buyer of U.S. real estate and fourth-largest cross-border seller over 2019 and 2020.
A year ago, Investcorp bought a 32-property, 3.5 million-square-foot industrial portfolio for $280 million. Concentrated in the Chicago, Cleveland, Columbus, Ohio, and Cincinnati metro areas, the portfolio featured a new 434,000-square-foot Class A distribution center near Cleveland that was fully leased to Amazon.
More recently, Investcorp in February acquired Tempe Commerce Park, a five-building, more than 500,000-square-foot light industrial campus in metro Phoenix, for $85 million.