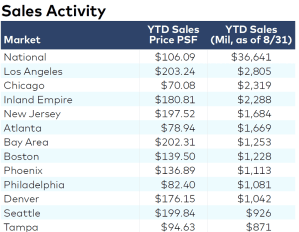 The U.S. industrial market remains in overdrive, CommercialEdge's September report highlights, with demand for distribution space remaining at an all-time high, even despite a massive development pipeline across the country. Port traffic has continued to skyrocket, and with the upcoming holiday season, this trend is likely to become even more apparent.
Nationwide, rents in August averaged $6.35 per square foot, a 3.8 percent increase this year. New leases commanded significant premiums, averaging $7.07 per square foot, one symptom of the accelerated demand for modern distribution space. Vacancy across the country stood at 5.9 percent in August, a very slight uptick of 10 basis points from the previous month.
Vacancies continued to compress in high-demand port markets, with the Inland Empire reporting a rate of 1.2 percent in August, by far the lowest nationwide. Other coastal market vacancies also remained tight, with New Jersey at 3.6 percent and Los Angeles at 3.2 percent. Even Midwestern markets, most of which tend to have significantly higher availabilities, saw vacancy rates drop. Columbus, for example, had a 2.5 percent vacancy rate—although that did not translate into significant rent growth. Due to an enormous supply of new inventory, the Ohio market's rents grew by only 1.0 percent during the year ending in August.
Columbus was not alone—500 million square feet of industrial space was under construction at the end of August, or 3.2 percent of stock. Furthermore, another 509.3 million square feet was in planning and permitting stages. Deliveries year-to-date totaled 207.1 million square feet. While certainly significant, total industrial completions this year are expected to slightly lag last year's, when some 315 million square feet came online. This could trigger additional upward pressure on rents, particularly in land-constrained markets.
Year-to-date through August, $36.6 billion in industrial transactions closed, a massive, 40.8 percent increase compared to the $26 billion closed during the same period in 2020. Sales averaged $106.09 per square foot, a 20 percent increase from the previous year. While the pandemic has undoubtedly accelerated these gains, longer-term growth in the e-commerce sector has been pushing prices higher since the Great Recession.
The report also highlights that labor shortages may become an issue: The warehousing and storage employment sector contracted earlier this year, losing 25,000 workers in the six months ending in April, although since then the sector has rebounded, adding 60,000 jobs. Alongside this, wages have begun to increase: Preliminary data from the Bureau of Labor Statistics putting the average hourly pay at $23.08 in July, 8.7 percent higher than 12 months earlier. With the holiday season approaching—and demand for warehouse employees higher than ever—further increases could occur.
Read the full CommercialEdge report.