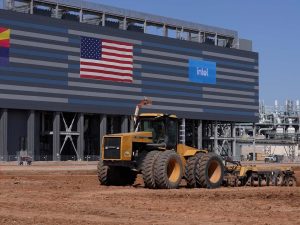 Intel has broken ground on two new chip factories totaling 670,000 square feet at its Ocotillo campus in Chandler, Ariz. Dubbed Fab 52 and Fab 62, the new manufacturing facilities will grow the tech giant's production capacity in Arizona to a total of six fabs.
The new investment will create more than 3,000 high-tech jobs, 3,000 construction jobs and support some 15,000 additional indirect jobs in the local community. Completion is expected by 2024.
Intel is the world's only U.S.-based chipmaker, and the 3.9 million-square-foot Ocotillo campus is its second-largest after the Ronler Acres site in Hillsboro, Ore. CEO Pat Gelsinger said, in a prepared statement, that the $20 billion Chandler expansion will bring the tech giant's total investment in Arizona to more than $50 billion since opening the campus more than 40 years ago. The expenditure is also the largest private-sector investment in the state's history.
---
READ ALSO: Why Construction Activity Should Ramp Up Soon
---
Once fully operational, the new fabs will produce Intel's 20A process technology while also providing committed capacity for Intel Foundry Services, the firm's newly formed branch responsible for third-party chip production. In July, IFS announced Qualcomm and Amazon to be the first two major companies that will use Intel's semiconductor chips in their products.
The expansion is part of Intel's recent strategy of enhancing its chip production capabilities, in the attempt of gaining some ground on Taiwan Semiconductor Manufacturing Co. and Samsung's activity of investing in new chipmaking plants across the U.S. In early May, the fab giant announced plans to expand its New Mexico manufacturing operations with a $3.5 billion investment in the Rio Rancho campus. The move is expected to create at least 700 high-tech jobs and 1,000 construction jobs, while supporting an additional 3,500 jobs across the state.
Inside the Ocotillo campus
Established in 1980, the campus spans across more than 700 acres at 4500 S. Dobson Road, just east of Interstate 10 and the Gila River Indian Reservation. Aside from the four chipmaking plants, the site currently comprises two central utility plants, three manufacturing support buildings, two process waste facilities and one sort manufacturing building. The newest on-site factory, Fab 42, came online in 2020.
In 2011, the Ocotillo Campus became one of the world's first existing and operating semiconductor manufacturing facilities to receive LEED certification for existing buildings. The property is within 7 miles southwest of downtown Chandler, with Phoenix Sky Harbor International Airport located 20 miles north.
Intel in Arizona
The tech giant currently has 12,000 Arizona employees. According to a 2019 study, Intel's total impact in the state accounted for 58,600 jobs, representing 1.5 percent of statewide employment. Specifically, the company was responsible for creating 10,300 direct jobs, $2.0 billion in employee compensation and $3.9 billion in GDP. The same data pinpointed the firm's annual economic impact to approximately $8.6 billion.
Intel is also implementing sustainability procedures through its RISE strategy, investing in on-site alternative energy, green buildings and water conservation. In 2020, the Arizona site returned and restored approximately 95 percent of the freshwater used in manufacturing to the community and local watersheds, as the company aims to achieve net positive water use by 2030.
Favorable legislation
The company could benefit from recent legislation in the field, as the Senate passed the U.S. Innovation and Competition Act (USICA) in June. The bill aims to provide $52 billion in federal funding for domestic semiconductor manufacturing incentives and would support investment in U.S. manufacturing capabilities, while fostering an innovation ecosystem and protecting a critical supply chain.
Two other existing bills—the National Science Foundation for the Future Act and the Department of Energy Science for the Future Act—seek to further U.S. innovation and competitiveness in technology by providing financing for R&D and scientific discovery, but lack the necessary funding provisions to support the U.S. manufacturing and semiconductor industry.
IFS President Randhir Thakur said, in a recent editorial, that the current legislation needs to be adjusted in order to include funding for domestic semiconductor manufacturing incentives. To that end, a bipartisan competitiveness bill would ensure a more resilient and balanced semiconductor supply chain for the entire industry.