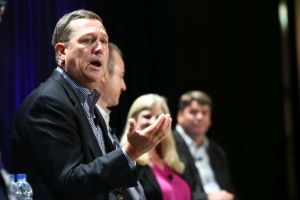 NAIOP recently hosted its first in-person conference since the pandemic began, bringing together 700+ industrial real estate leaders at I.CON West in Long Beach, Calif. Here are some of the biggest takeaways from the event:
Capital markets are stronger than ever
There is no sign of the industrial markets slowing down, and the tenant demand seems to be insatiable. Industrial landlords have been disciplined to not overdeliver, so there's tight supply. And while people have been focused on the growth in the sector driven by the trends that accelerated during COVID-19, industrial real estate has enjoyed strong tailwinds for the last five years.
---
READ ALSO: Keynotes at NAIOP's I.CON West Focus on Economics, Leadership
---
Office was showing signs of weakness before the pandemic, and retail and industrial have literally flipped cap rate averages from 2015 to 2020. This kind of secular shift means higher capital deployed in industrial. Investors who traditionally invested in office have been increasingly attracted to industrial, and the big players have only gotten bigger. Experts say these new entrants to the markets are more involved on the development side than the acquisition side.
The supply chain squeeze
Retailers are investing huge amounts of capital to meet e-commerce demand, and the online grocery segment is ramping up to be able to offer delivery within hours. This is all good news for industrial real estate, but it means retailers must continue to locate closer to the customer to shorten delivery time and transportation costs.
With every $1 billion of additional e-commerce sales requiring an additional 1 million square feet of industrial space, projecting space requirements as e-commerce sales surge can be difficult. More than 60 percent of demand for industrial space is coming from 3PLs, companies like FedEx, UPS, DHL and others that are servicing e-commerce fulfillment. Other drivers of demand are general retail/wholesale; food and beverage (cold storage); manufacturing; automobiles, tires and parts; as well as the building materials/construction and medical industries.
The supply chain isn't just in time, it's "just in case" that next container doesn't arrive as scheduled, and retailers are increasing inventories—and industrial space needed to hold it—to avoid having empty shelves and lost revenues.
Cold storage is heating up
The pandemic has dramatically changed consumer attitudes regarding how fast groceries and other refrigerated items such as medicines can be delivered to the home. And that has left the cold storage segment of industrial real estate in a race to keep up.
Cold storage facilities are largely outdated, so development must catch up and deliver more modern spaces to meet demand.
In 2019, only 3 percent of grocery sales were delivered, and today that figure has doubled. That trend is driven not just by the pandemic, but by changing consumer tastes and many more options in terms of frozen and refrigerated foods.
Speculative development of cold storage facilities is difficult because of the increased costs, the need for automation and the fact that there is no universal approach to designing and building them: Every tenant need is different. The solution is to make the project as flexible as possible and remain focused on the needs of the marketplace. Developers should understand the needs of the material systems handler as well as the nuances of the various storage modalities.
Working with community decision-makers is essential to success
Demand from tenants may not be a challenge in today's environment, but community sentiment is now an increasingly important factor that cannot be ignored when developing industrial property.
Experts said that the typical statement [jobs and tax revenues] is not getting traction. There is a desire and direction to find more impactful ways to bring together the community and demonstrate benefits in addition to the jobs and development impact.
There are challenges for smaller players—and big ones too
An unexpected side effect of the raging industrial market is that it might be leaving smaller tenants with limited options. While most think of Amazon when they imagine warehouse space, the reality is that there is a universe of smaller manufacturers who also need their goods delivered.
Some tenants have found creative solutions during the pandemic, for example, by converting their liquor manufacturing processes to produce hand sanitizer instead, and emerged stronger.
Finding larger sites for tenants who would prefer to condense operations in a single location and eliminating off-site parking due to liability and security issues are big challenges, especially in Los Angeles County where there is tight Class A inventory. Developers now are figuring out how to make unique sites work, whether that means modernizing the building, knocking down a building or even creating parking inside the building.
The future looks bright
With pent-up demand and higher savings than ever for consumers, all expect strong demand to continue for at least 2-3 years.
Some headwinds—like attracting top talent, rising construction costs and delayed materials availability—will continue for the foreseeable future, but there's never been a better time to be in industrial real estate.