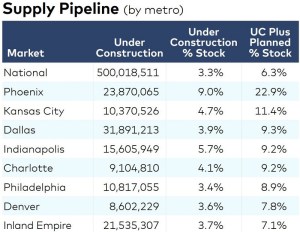 The industrial market continues to move at full throttle, CommercialEdge's August report indicates, with demand significantly outweighing supply in the country's largest markets. This month's report is expanded in scope compared to previous iterations, capturing more than 50 markets, and is not directly comparable to past reports.
Industrial rents averaged $6.31 per square foot in July, a 4.0 percent increase year-over-year. The highest gains were found in Southern California and in other markets with notable port activity. The Inland Empire led the pack, boasting growth of 6.9 percent year-over-year to an average of $6.36 per square foot. Other markets with rapid rent growth included Los Angeles (up 6.4 percent to $10.13) and New Jersey (6.3 percent, $7.71 per square foot).
The U.S. vacancy figure hit 5.8 percent in July, though there was a wide variation among metros. The Inland Empire, long characterized by strong demand and a dearth of available space, registered vacancy at a record low of 1.4 percent. While those markets with higher rent growth tended to exhibit tighter vacancies, this trend did not bear out in the Midwest. Columbus, Ohio, despite a vacancy rate of 2.2 percent—the third lowest covered in this report—had only muted growth of 2.2 percent over the year in July. Similarly, Indianapolis' rent growth was 1.3 percent during this same period, despite a 2.4 percent vacancy. Though demand in these markets is strong, the region's weaker rent growth can largely be attributed to the impact of new supply in recent years.
Industrial development continues at a swift pace, with 500 million square feet under construction nationwide at the end of July. Owing to skyrocketing demand, developer fervor is likely to continue, with nearly as much space—458.4 million square feet—in planning stages. Phoenix was the most rapidly growing, with its 23.9 million square feet underway representing a staggering 9.0 percent of stock, far surpassing the national rate of 3.3 percent.
Investment volume has risen this year, with transactions through July totaling $30.5 billion. This marks an increase of 34.6 percent from the $22.7 billion closed during the same period last year. Los Angeles and the Inland Empire led, with a respective $2.2 billion and $2.0 billion in deals closed. Pricing across the U.S. spiked as well, averaging $108 per square foot in July, a 22.4 percent increase compared to 2020. Orange County leads the nation, with properties traded averaging $312 per square foot, followed by New Jersey at $204 per square foot.
Read the full CommercialEdge report.