By Samantha Goldberg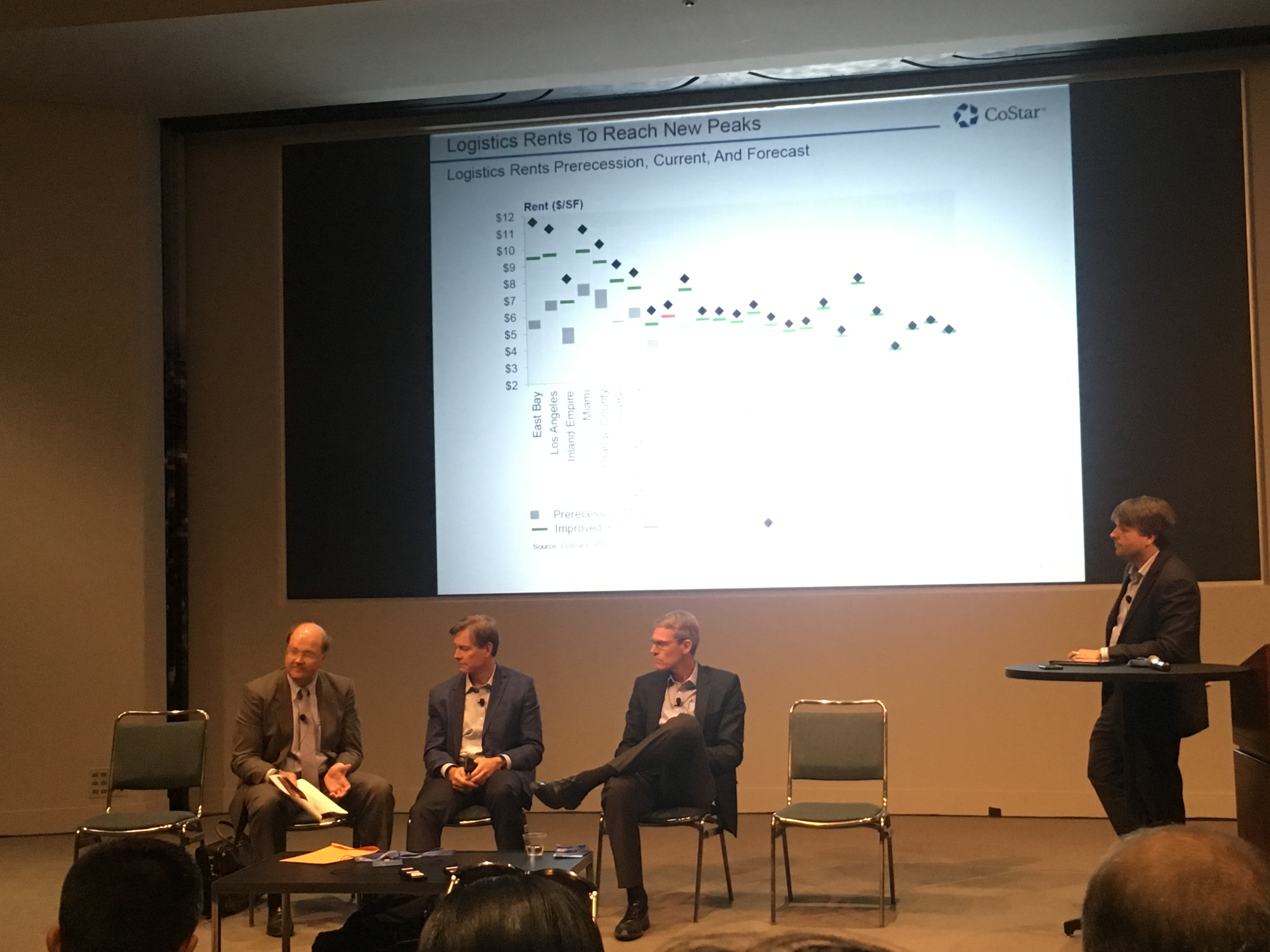 As e-commerce continues to take up market share in the retail space, the industrial sector is benefiting from increased demand for space, making the property type a hot commodity. Panelists at the 2017 ULI Fall Meeting in Los Angeles discussed their largely optimistic perspectives on the industrial sector's prospects, but also acknowledged the challenges that come along with their business. 
For Prologis, a leading owner and developer of industrial real estate, the focus has been on development versus acquisition. "Core acquisitions are awfully pricey and we think we can create a heck of a lot more value in the development process," noted Larry Harmsen, Prologis' COO, Americas. He added that the firm is developing more built-to-suit assets, which is "different than the last couple of cycles." This is largely due to vacancy rates being at record lows, which means the amount of available supply is limited. 
Dwight Merriman, partner & head of real estate at Industrial Property Trust, added that the entitlement process in many cities is also contributing to the lack of supply, especially on the West Coast. "That creates barriers to entry and that does moderate the supply coming online, which is part of the reason rental growth has been what it's been." 
Harmsen also noted that rental growth will need to increase in order to facilitate new supply, since cap rates aren't expected to go much lower and replacement costs are rising. 
E-commerce impact 
Another major topic of discussion was how the growth of e-commerce is evolving the industrial sector. E-commerce sales have grown 15 percent annually since 2010—a trend that doesn't seem to be slowing, noted CoStar Portfolio Strategy Director Rene Circ, but its share of total retail sales currently sits at 8 to 10 percent, suggesting there is room for growth. 
Circ also pointed out that e-commerce's need for industrial space has shifted over the last 17 years as online retailers "switched from competing on price to competing on convenience." E-commerce players have been increasing their inventories to meet the growing demand for convenience from consumers, with Amazon being a prime example in the number of distribution centers it has built in recent years. 
But despite its growing presence, e-commerce is still a small part of the overall warehouse market, occupying about 4 percent (or some 600 million square feet) of the 2.2. billion-square-foot industry. Data indicates this trend will change, however, as e-commerce has been the major demand driver for net absorption since 2012, Circ noted. 
In terms of markets, the East Coast has been gaining about 1 percent share of distribution space for the past 15 years, with cities like Richmond, Va., developing larger industrial assets (1 million square feet or more). 
The Amazon effect
Harmsen said he "feels really good" about the growth potential of e-commerce occupying industrial space, with e-commerce's share of total retail sales likely to double, hitting 15 to 20 percent, although he said the timing of this increase is unknown. 
He also noted that while Amazon is the biggest player in the industrial space and is a great credit tenant, industrial owners are ensuring they aren't overexposed to Amazon as a tenant and that their properties are re-leaseable.
"Any building we want to own long-term we want to feel good about it being a functional building long-term…if that tenant moves out, we want to make sure it's re-leaseable."
Charles Forbes, executive vice president  & director of core investments at Cabot Properties, added that to Amazon's credit, its assets are"well-located, functional for other uses, for the most part…they're good rectangles, with great points of access, incredible circulation." He added that the biggest issue will be filling Amazon's largest assets if they decide to vacate.
Merriman added, however, that Amazon does own some smaller, last-mile distribution centers as well, which would be easier to fill. 
Will retail struggles hit industrial?
Panelists also discussed some of the potential risks to the industrial sector, including failing retailers not only closing brick-and-mortar stores but distribution centers as well. 
About 600 million square feet of industrial space is currently occupied by the top 50 retailers, Circ noted. 
Harmsen said he's starting to see this effect in Prologis' portfolio, providing examples of warehouses the company had with Sports Authority and HHGregg that both went vacant once the retailers went out of business. He added that he doesn't believe all e-commerce retailers will be successful either, which could add to vacancy risk.
Merriman added that owner-occupied retail space is also not as functional, which means when retailers vacate the space it will likely be converted to another use.
One type of industrial space that he believes will grow however, is refrigerated or frozen storage facilities due to Amazon's purchase of Whole Foods. 
"That's an e-commerce use that I think is going to grow that can take up a lot of that garment retailer space (from retailers) that might give up space," he said.
Institutional interest
Panelist also discussed how competition for the property type has heated up.
Circ noted that investors are 'writing big checks" to get into industrial, with large portfolio transactions becoming more common in recent years.
"That has really opened up industrial to a lot of the institutional players that couldn't participate before," he said. "Suddenly industrial has become an institutional property type."

This new capital coming in is adding to the competition for quality assets, Forbes noted. "The world is hungry for U.S. industrial space, there is no question," he said. "Our warehouses are as full as they've ever been."
Harmsen noted that virtually everything Prologis owns outside of the U.S. is with a private capital vehicle that is active in raising foreign capital. 
"That foreign capital is very plentiful, interested and available," he said. "Capital is not the issue today."
Forbes added that industrial is the least penetrated institutionally among the asset classes, indicating that it's still an opportunity for growth.