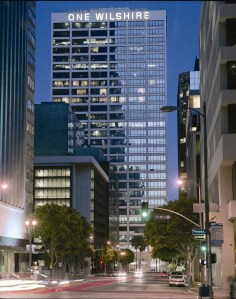 Los Angeles' One Wilshire, one of the most significant telecommunication hubs in the U.S., has received $389.3 million in refinancing. Goldman Sachs provided a 10-year loan for the historic building, which has been under GI Partners' ownership since 2013.
A JLL team comprising Executive Managing Director Kevin MacKenzie, Managing Director Brian Torp, Director Jake Wagner, and Capital Markets Associate Samuel Godfrey, arranged the fixed-rate, non-recourse financing on behalf of the borrower.
Proceeds from the loan will be used to pay off existing debt and repatriate a portion of the equity.
---
READ ALSO: GI Partners Continues Buying Spree With $254M Deal
---
According to CommercialEdge, One Wilshire became subject to two separate CMBS loans, totaling $180 million, originated by Cantor Commercial Real Estate in July 2013, with a 2023 maturity date. That same month, GI Partners acquired the building for $437.5 million from Hines Interests—part of a $550 million portfolio transaction. It was Los Angeles' largest office transaction recorded in 2013, according to CommercialEdge.
One Wilshire is located at 624 S. Grand Ave. in the metro's CBD. The 30-story building comprises 661,553 square feet of office and data center space. Originally built in 1966, the property received major upgrades to its digital infrastructure in 1992, including the addition of a meet-me-room that currently boasts one of the largest concentrations of network providers on the West Coast. The building also offers 10,209 square feet of retail and a parking ratio of one space per 1,000 square feet. According to JLL's announcement, the building is 89 percent leased to a variety of digital infrastructure tenants.
CoreSite Realty is One Wilshire's largest tenants and operators of the famous meet-me-room, offering more than 173,000 square feet of data center space in the building and access to over 330 networks. Cloud providers include CoreSite's Open Cloud Exchange, AWS, Azure, Google, IBM and Oracle. Furthermore, One Wilshire is the landing site for several major subsea cables, connecting to Hawaii, New Zealand, Australia and Japan, among other major points in the Asia Pacific region.
A busy year for the sector
Last year, several massive deals highlighted the strength of the data center asset class, as well as the growing interest in the sector from a variety of investors. CoreSite Realty itself was acquired in November 2021 by American Tower Co., for $170 per share in cash, totaling $10.1 billion.
That same month, KKR and Global Infrastructure Partners agreed to buy all outstanding shares of CyrusOne common stock, in a deal valued at $15 billion and comprising a global portfolio of 50 data centers. Another similar deal was announced in June—Blackstone's $10 billion acquisition of QTS Realty Trust.
According to JLL research, Los Angeles' data center market absorbed 250 percent more megawatts (7.0 MW) in the first half of 2021 than the previous year (2.0 MW). Demand for digital infrastructure is bound to keep growing, with providers, developers and users preparing for global deployments of 5G.