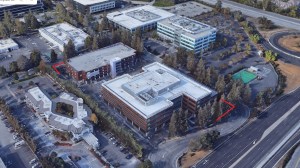 Menlo Park-based private investment firm GI Partners has added a newly constructed office building to its Silicon Valley portfolio. In a deal that closed on Tuesday, the firm paid $254 million for the 230,000-square-foot R&D property in Sunnyvale, Calif., county records show.
GI acted through an affiliate to buy the asset, which was developed by Lane Partners in a joint venture with PIMCO, according to documents filed on July 20. CommercialEdge data shows the building has been fully leased to Nokia.
---
READ ALSO: Behind Oracle's $155M San Jose Deal
---
The four-story office building is located at 520 Almanor Ave. According to documents published by the City of Sunnyvale, developers received approval for construction in 2017 and finished work last month. The project was initially slated for a 2020 completion, according to Lane Partners' website, but most likely the pandemic has induced some delays.
In 2020, the project became subject to a $113.4 million construction loan, funded by Otera Capital, CommercialEdge data shows. Furthermore, the property is subject to a 99-year unsubordinated net ground lease held by Pace Properties.
The developer hired Truebeck Construction as general contractor, while KSH Architects designed the building. Watry Design worked on planning and structural engineering for the adjacent, seven-level parking structure, according to its website.
Project details
The office building sits on a 6.45-acre site at the North-Eastern corner of Almanor Avenue, just off the Bayshore Freeway. According to Truebeck Construction's website, the project features 16-foot-high ceilings on the ground floor, while the upper floors have a 14-foot ceiling clear height. The office was designed to meet LEED Gold certification, which is currently underway.
The building offers floorplates of 52,200 square feet and includes a café/retail component on the ground floor, which amounts to 4,000 square feet, the architects' and developer's websites show. Tenants will also have access to a 7,000-square-foot outdoor terrace. The adjacent parking structure features two underground levels and offers a ratio of 3,98 spaces per 1,000 square feet. It also includes 19 EV charging stations, with the infrastructure to add 20 more, according to Watry Design's website.
Nokia's future Silicon Valley headquarters sits roughly 2 miles north of downtown Sunnyvale. The area has one of the densest concentrations of tech companies. LinkedIn, which recently paid $323 million for its headquarters, is located 2 miles to the West. Other corporate neighbors include Apple, Synopsys, Siemens, Samsung, and many others.
Appetite for life sciences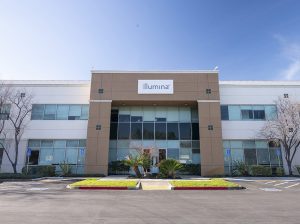 In 2018, Nokia announced the leasing agreement for the entire building, while also unveiling a plan to consolidate its offices into the newly constructed building, the Silicon Valley Business Journal reported at the time. The Finnish IT and telecommunications company also leases space roughly 2 miles from Almanor Avenue, at 701, 777 and 805 E. Middlefield Road, according to CommercialEdge data.
GI Partners paid roughly $1,100 per square foot, more than double the average $505 price per square foot recorded in year-to-date sales in the Bay Area as of June, CommercialEdge data shows. Developers and investors seem confident that the tech capital will rebound, as leasing and sales activity is slowly picking up pace.
GI Partners has recently added several other similar assets to its portfolio. Last month, the investor paid $155 million for Mt. Eden Research Park in Hayward, a property occupied by biotechnology tenants. In metro Philadelphia, GI acquired 3701 Market St. for $79 million, another life science asset currently occupied by Penn Medicine and Drexel University.
The investments were made as part of GI's Real Estate Essential Tech + Science Fund, which the company announced it launched earlier this year. The fund is focused on investments in continuously operating real estate assets, such as data centers, R&D and life science facilities.