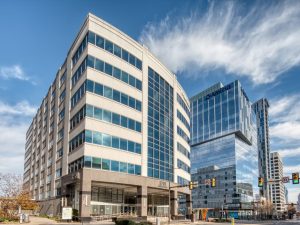 On the heels of a $155 million life science / R&D acquisition in the Bay Area, San Francisco-based private equity firm GI Partners picked up another property, this time in Philadelphia's University City neighborhood. The 140,913-square-foot life science building traded for $79 million, according to the Philadelphia Business Journal.
---
READ ALSO: Life Sciences Buildings to Launch $400M Navy Yard Phase I
---
University City Science Center, the former owner of the eight-story building at 3701 Market St., put the asset up for sale in early 2021. Most of the property is currently occupied by Penn Medicine and Drexel University.
Situated just outside central Philadelphia and next to the University of Pennsylvania, 3701 Market St. came online in 2000. Over the last four years, the seller invested nearly $3 million in property renovations. Capital improvements included the addition of a new roof, as well as upgrades to the building-automation and HVAC systems.
CBRE Capital Markets' Institutional Properties team in charge of marketing the asset on behalf of the seller included Robert Fahey, Jerry Kranzel, Bruer Kershner, Erin Hannan and Jack Corcoran. Additionally, the brokerage's debt & structure finance team, led by Steven Doherty and Nick Harris, secured mortgage financing for the buyer.
A thriving sector
The sale of 3701 Market St. at roughly $567 per square foot emphasizes the life science sector's current status as one of the hottest markets since the pandemic hit in early 2020. By comparison, the average sale price for office space this year in Philadelphia hit $171 per square foot as of the end of May, a recent CommercialEdge report shows.
According to Fahey, executive vice president at CBRE, Philadelphia is regarded as the fourth-largest research cluster in the country. The metro has been attracting out-of-town investors, as seven of the 10 largest office transactions over the past five years drew on outside capital.
Two life science buildings totaling at least 200,000 square feet will be among the first to rise within the $2.5 billion Philadelphia Navy Yard development's first phase. Master developer PIDC will partner with Ensemble Real Estate Investments and Mosaic Development Partners to transform 109 acres at Navy Yard. The $400 million first stage will also include 3 million square feet of life science manufacturing, R&D, office, hospitality and retail space.