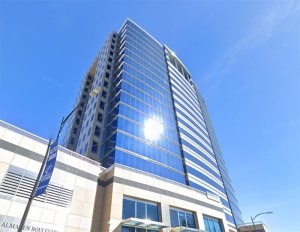 PIMCO and Lane Partners have teamed up to acquire the tallest office building in downtown San Jose, Calif., snapping up the asset in the heart of Silicon Valley from tech giant Oracle for $155 million. Blackstone Mortgage Trust provided a $148.2 million loan for the purchase of the 378,961-square-foot property, Sobrato Office Tower, according to public records.
---
READ ALSO: Silicon Valley Fujitsu Campus Sells for $104M
---
Oracle put the Class A building on the market in early January, shortly after announcing that it would move its headquarters from Redwood City, Calif., to Austin, Texas. Built in 2003, the 19-story property is located at 488 S. Almaden Blvd., next to the San Jose Convention Center and close to the interchange of Interstate 280 and State Route 87. Oracle picked up the building from The Sobrato Organization in 2007.
The property features an on-site cafeteria, first-floor retail and an adjacent parking structure. Accounting giant PricewaterhouseCoopers leases a bit more than half of the building's rentable area, according to a January account by the Silicon Valley Business Journal.
Oracle completed the moved of all its employees out of the tower to its Santa Clara, Calif., campus last summer, the newspaper reported, citing a real estate industry source. Last December, the company announced it had changed its headquarters address to Austin, explaining the move as part of an embrace of greater location flexibility for Oracle employees.
Longtime partners
PIMCO, a global investment management firm with more than $2 trillion of assets under management, has a history with Lane Partners, a Menlo Park, Calif.-based company that specializes in institutional-quality real estate in Northern California. In 2015, the partners sold 500 and 501 Macara Ave., a Sunnyvale office project leased to Apple Inc., for around $60 million.
The companies' latest acquisition comes as San Jose's office market continues to struggle. Two new leases by Silicon Valley Medical Development and CreaTV San Jose, measuring 25,632 square feet and 18,040 square feet, respectively, were among the largest lease deals in Silicon Valley during the first quarter, according to a market report by Cushman & Wakefield.
Earlier this month, Cypress Equities and Life Time Athletic announced plans for a new mixed-use development in San Jose's West Valley, including a Class A office building and an athletic resort. The more than 400,000-square-foot project has received full approvals from the city and is expected to break ground in the fourth quarter.